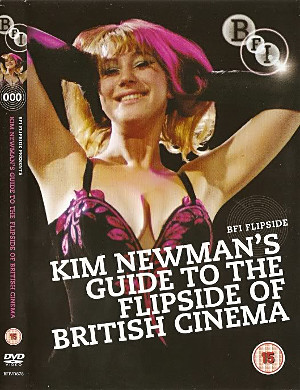 Kim Newman - Flipside: Kim Newman's Guide to the Flipside of British Cinema
In an all-new documentary, produced exclusively for the BFI, the UK's most knowledgeable and well-respected cult film critic, Kim Newman, explores such questions as how the director of Help! and Superman II came to make one of the world's greatest, but little-known, black comedies, and lifts the lid on which previously unseen British film features Helen Mirren in her debut role.
With a selection of original trailers and short films – including one that's exclusive to this release – this is your passport to the exciting and surprising world of the Flipside.
Extras
* Kim Newman's Guide to the Flipside of British Cinema (2010, 37 mins): all-new, exclusive documentary
* Carousella (1966, 25 mins): controversial documentary on the lives of a group of striptease artistes, directed by John Irvin (Hamburger Hill, Raw Deal)
* Tomorrow Night in London (1969, 5 mins): vibrant and fast-paced tourist board short extolling the virtues, and fashions, of London's nightlife
* The Spy's Wife (1972, 27 mins): a modish tale of international intrigue and extra-marital relations with Tom Bell (The L-Shaped Room, Prime Suspect) and Ann Lynn (Screamtime, Separation)
* BFI Flipside trailer reel
* Fully illustrated booklet with essays and film credits
Medium: DVD
Related Products