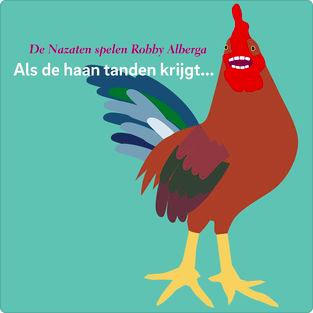 De Nazaten (Play Robby Alberga) - Als De Haan Tanden Krijgt…
Nine man strong, this lovely brass & percussion band has been around for more than 20 years. The dutch/surinamese group play a mix of styles, "streetwise bastard music" they call it, dutch fanfare and surinamese party music like kaseko are joyfully thrown in the pot.
The title of this CD from 2018 literally means "when the rooster grows teeth" and expression meaning as much as: "it will not  happen".
Line up:
Robby Alberga: guitar
Setish Bindraban: trumpet
Jermaine Forster: drums
Klaas Hekman: piccolo, soprano-and bass saxophone
Carlo Ulrichi Hoop: congos, percussion
Keimpe de Jong: soprano and tenor saxophone
Chris Semmoh: skratyi, percussion
Sharief Wagid Hosain: alto saxophone
NBVLN
Medium: CD
Related Products