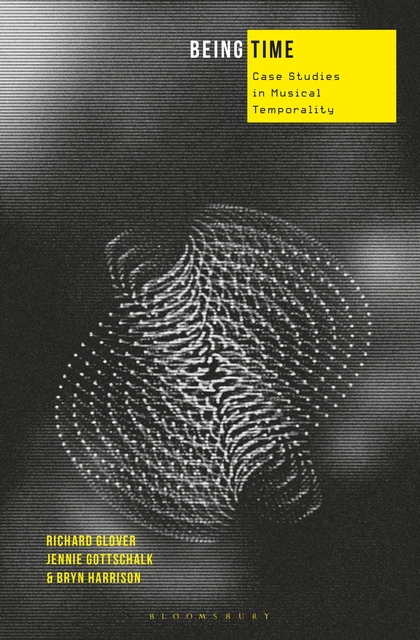 Richard Glover, Jennie Gottschalk, Bryn Harrison - Being Time – Case Studies in Musical Temporality
Being Time invites a deep consideration of the personal experience of temporality in music, focusing on the perceptual role of the listener. Through individual case studies, this book centers on musical works that deal with time in radical ways. These include pieces by Morton Feldman, James Saunders, Chiyoko Szlavnics, Ryoji Ikeda, Toshiya Tsunoda, Laurie Spiegel and André O. Möller. Multiple perspectives are explored through a series of encounters, initially between an individual and a work, and subsequently with each author's varying experiences of temporality. The authors compare their responses to features such as repetition, speed, duration and scale from a perceptual standpoint, drawing in reflections on aspects such as musical memory and anticipation. The observations made in this book are accessible and relevant to readers who are interested in exploring issues of temporality from a broad range of disciplinary perspectives.
Contents:
Chapter 1. Foreshadowing and Recollection: Listening Through Morton Feldman's Piano, Violin, Viola, Cello – by Bryn Harrison
Postlude to Chapter 1 – by Richard Glover
Chapter 2. Musical brevity in James Saunders' Compatibility hides itself and 511 possible mosaics – by Bryn Harrison
Postlude to Chapter 2 – by Jennie Gottschalk
Chapter 3. Separation and Continuity in Chiyoko Szlavnics' Gradients of Detail – by ichard Glover
Postlude to Chapter 3 – by Jennie Gottschalk
Chapter 4. Filtering Temporality in Ryoji Ikeda's +/-  – by Richard Glover
Postlude to Chapter 4 – by Bryn Harrison
Chapter 5. Granulated Time: Toshiya Tsunoda's O Kokos Tis Anixis – by Jennie Gottschalk
Postlude to Chapter 5 – by Bryn Harrison
Chapter 6. Monoliths: Laurie Spiegel's The Expanding Universe and André O. Möller's musik für orgel und eine(n) tonsetzer(in) – by Jennie Gottschalk
Postlude to Chapter 6 – by Richard Glover
Chapter 7. Observations on Musical Behaviors and Temporality – by
Richard Glover, Jennie Gottschalk, and Bryn Harrison
Epilogue
Appendix: Suggested Further Reading and Listening
"This is one of the richest, most innovative treatments of temporality's relation to music to appear in the last decade. Musicologists, composers, sound artists, and interdisciplinary scholars interested in the experience of time will find this book rewarding. Summing Up: Highly recommended. Upper-division undergraduates through faculty and professionals." –  CHOICE
Richard Glover is a Reader in Music at the University of Wolverhampton, UK, and divides his time between composing, and writing and presenting on the perception, construction and notation of experimental musics. He has received many international performances of his music, and has recently published book chapters on Phill Niblock and technology in minimalism.
Bryn Harrison is a Senior Lecturer and Head of Composition at the University of Huddersfield. He has an international reputation as a composer and has received commissions, performances and broadcasts by many leading ensembles including the LSO, London Sinfonietta, ensemble recherche, Klangforum Wien and ELISION.
Jennie Gottschalk (born 1978 in Stanford, CA) is a composer based in Boston. Her dissertation and current work explore connections between American pragmatist thought and experimental music. Current projects include a string quartet, a children's book, an experimental music blog (soundexpanse.com).
Paperback, published in 2019, 189 pages.
Medium: Book
Related Products