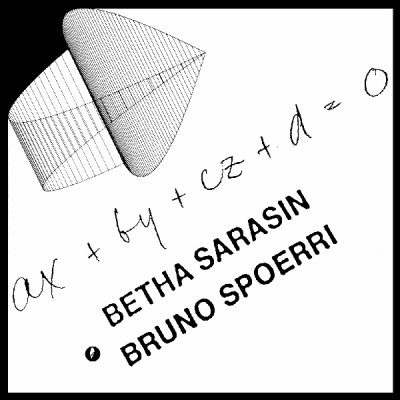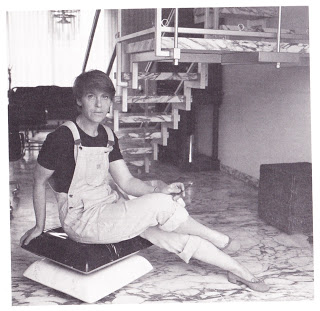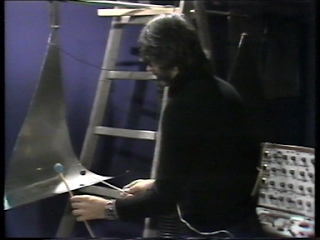 Betha Sarasin and Bruno Spoerri - AX+BY+CZ+D=0 (aka Kunst Am Computer)
This previously un-promoted aural thesis documents a one-off collaboration between the Zürich-born music technologist Spoerri and sound artist Betha Sarasin as they collectively embrace computer technology to serve their art practice. The result is a series of startling melodic and non-melodic pieces using elecromagnetically ocillated stainless steel "instrument sculptures".
For Spoerri enthusiasts this record presents the musician in a new light. AX+BY+CZ+D=0 (AKA Kunst Am Computer) both sonically and stylistically reveald a darker side to Spoerri's music pre-flecting the recent favour for "industrial" and "drone" aesthetics. On the video still below he can be seen playing the sound sculptures.
Betha Sarasin (see picture), who built the sound sculptures, worked mostly in the tradition of Concrete Art, which was big in Switzerland at that time. Sarasin's interest in geometry continued when she started to collaborate with computer scientists to realize "threedimensional trompe l'oeil drawings" and later the sound sculptures.
Medium: LP
Related Products