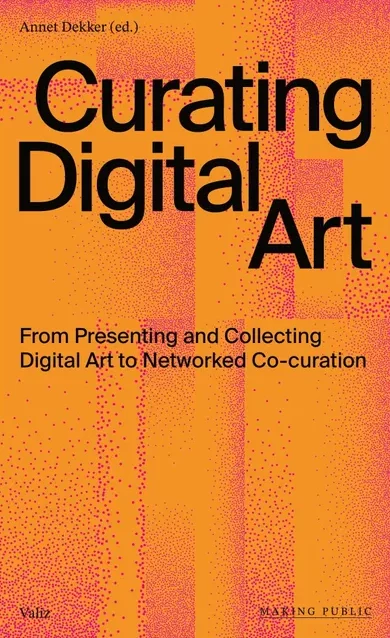 Annet Dekker (Ed.) - Curating Digital Art
What is the role of the curator when organizing digital art exhibitions in offline and online spaces? Analyzing the influence and impact of curating digital art, the book focuses on how the experiments of curators, artists and designers opened the possibility to reconfigure traditional models and methods for presenting and accessing digital art. In the process, it addresses how web-based practices challenge certain established museological values and precipitate alternative ways of understanding art's stewardship, curatorial responsibility, public access and art history. Through more than twenty interviews with artists and curators in the course of the last ten years, and flanked by an extensive timeline, the reader of this publication is given an insight into the discourse on digital art and its curation today.
contributions by:
Pita Arreola-Burns, Evelyn Austin, LaTurbo Avedon, Paul Barsch, Livia Benedetti, Bob Bicknell-Knight, Elliott Burns, Tom Clark, Marco De Mutiis, Constant Dullaart, Madja Edelstein-Gomez, Amber van den Eeden, Rebecca Edwards, Rózsa Farkas, Marialaura Ghidini, Manique Hendricks, Tilman Hornig, Florian Kuhlmann, Kalle Mattsson, Anika Meier, Marie Meixnerová, Laura Mousavi, Katja Novitskova, Domenico Quaranta, Stefan Riebel, Ryder Ripps, Sakrowski, Katrina Sluis, Lilian Stolk, Systaime a.k.a. Michaël Borras, Gaia Tedone, Jon Uriarte, Miyö Van Stenis, Nimrod Vardi, Marcela Vieira, ZHANG Ga.
About the author
Annet Dekker is Assistant Professor Media Studies: Archival and Information Studies at the University of Amsterdam in the Netherlands, and Visiting Professor and co-director of the Centre for the Study of the Networked Image at London South Bank University, UK. Other recent publications include Lost and Living (in) Archives (2017).
Paperback, published in 2021, 352 pages
We no longer inhabit earth and dwell under the sky: these are being replaced by Google Earth and the Cloud. The terrestrial order is giving way to a digital order, the world of things is being replaced by a world of non-things – a constantly expanding 'infosphere' of information and communication which displaces objects and obliterates any stillness and calmness in our lives.
Byung-Chul Han's critique of the infosphere highlights the price we are paying for our growing preoccupation with information and communication. Today we search for more information without gaining any real knowledge. We communicate constantly without participating in a community. We save masses of data without keeping track of our memories. We accumulate friends and followers without encountering other people. This is how information develops a form of life that has no stability or duration. And as we become increasingly absorbed in the infosphere, we lose touch with the magic of things which provide a stable environment for dwelling and give continuity to human life. The infosphere may seem to grant us new freedoms but it creates new forms of control too, and it cuts us off from the kind of freedom that is tied to acting in the world.
This new book by one of the most creative cultural theorists writing today will be of interest to a wide readership.
HSSS
Publisher:
Valiz
/ ISBN 9789493246010
Medium: Book
Related Products