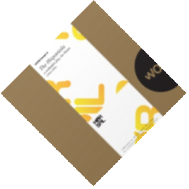 WORM Horspil - #6 – the Hispaniola
The Hørspil Series is a co-production with the Dutch VPRO Radio and their program Café Sonore. They're all produced in WORM's own studio sweatshop!
The Hispaniola was made by Christopher Williams – he called it 'A Webradioplay for Flutist' and it has 4 acts. Its title comes from the protagonis ship of the mythical adventure novel Treasure Island, which functions as a source of material, a metaphorical axis and an inspiration for the whole thing,.
mrow : )
Medium: CD
Related Products