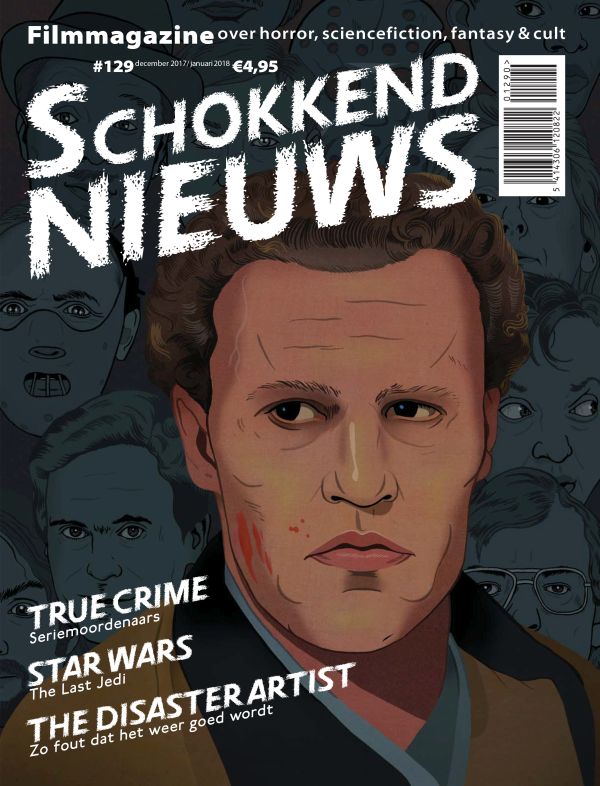 Schokkend Nieuws - # 129 (December/January 2018)
Schokkend Nieuws, in Dutch. Extra thick issue this time. 60 pages of horror, science fiction, fantasy and cult!
Including an indepth essay by Roel Haanen trying to look inside the psyche of a serial killer. He talked th John McNaughton, director of HENRY: PORTRAIT OF A SERIAL KILLER from 1986. He also talked to FBI-profiler John Douglas who played a crucial part in the successful Netflix series Mindhunter. He heard many horrible details.
Also an interview with Joachim Trier, director of THELMA. He told Ronald Simons how Dario Argento and soft power inspired this psychological horror movie. Furthermore: THE KILLING OF A SACRED DEER,, STAR WARS: THE LAST JEDI and THE DISASTER ARTIST.
Guus Schulting dug up archives about the "first Dutch sensation movie", which flopped in 1934 en was lost. Still this science fiction/action film full of car chases, diesel trains and planes deserves a spot in Dutch genre film history. autoachtervolgingen, dieseltreinen en vliegtuigen beslist een plekje in onze genrefilmgeschiedenis.
Plus reviews of DVDs/Blurays of: TERROR IN A TEXAS TOWN (Joseph H. Lewis, 1958), KILL, BABY… KILL! (Mario Bava, 1966), J.D'S REVENGE (Arthur Marks, 1975), DOBERMAN COP (Kinji Fukasaku, 1977), THE LURE (Agnieszka Smoczynska, 2015) and THE UNTAMED (Amat Escalante, 2016).
Plus cartoons, the Celluloid Scavenger, Abattoir, Kino Cadavre, Oud Papier and Terra Incognita, Sebastiaan Luiten about Mexican wrestling phenomenon Santo.
PLEASE NOTE: We've got older issues that never got listed: Issues 119 through to 128 are here too. Just ask.
Medium: Magazine
Related Products