Out of stock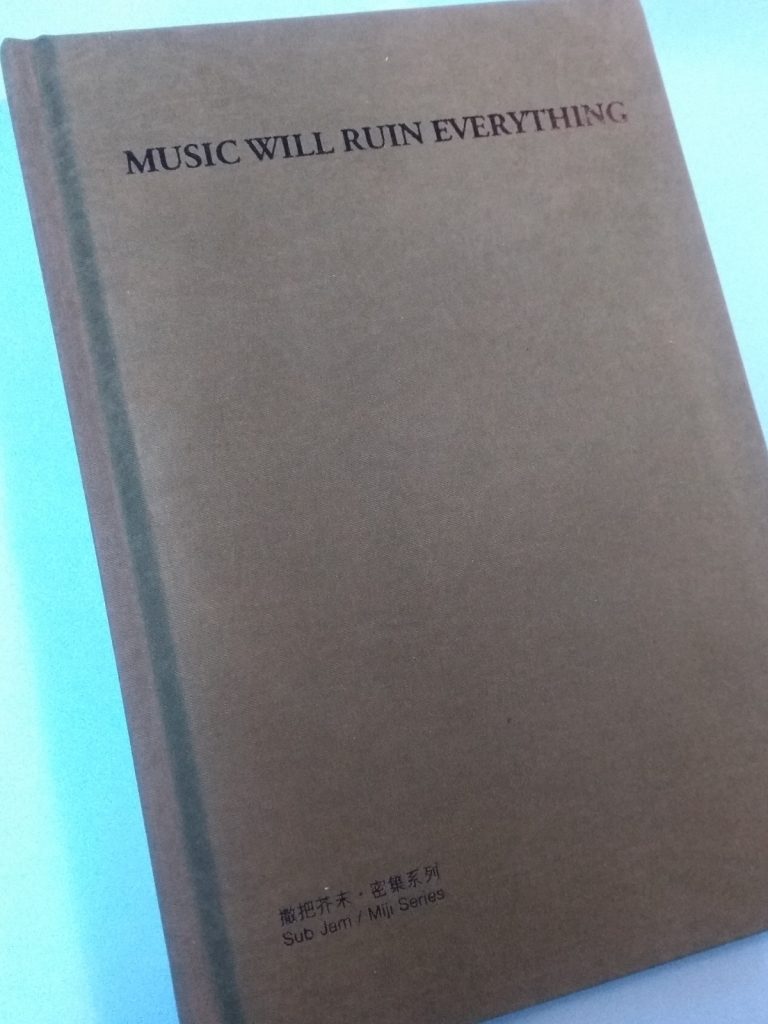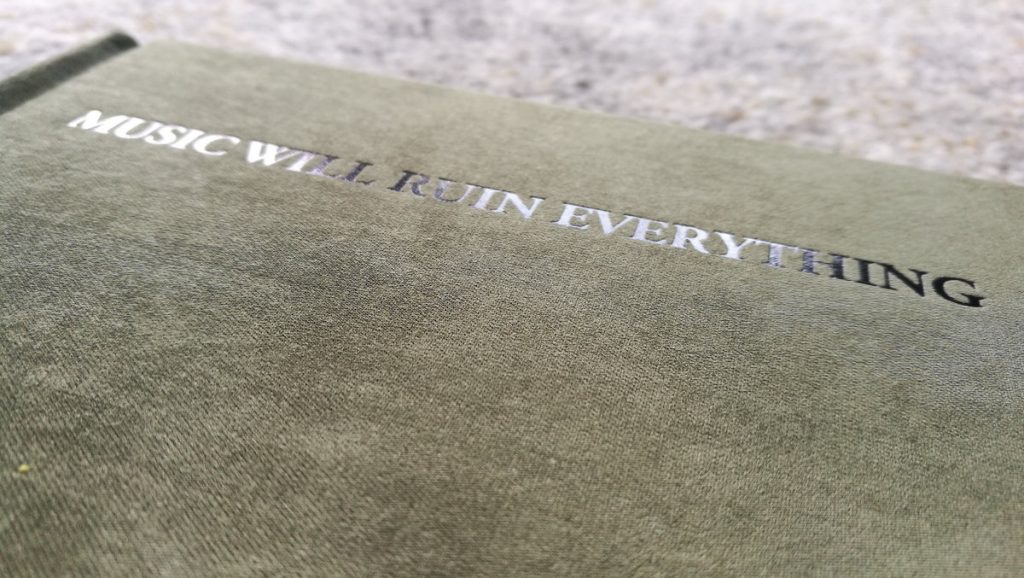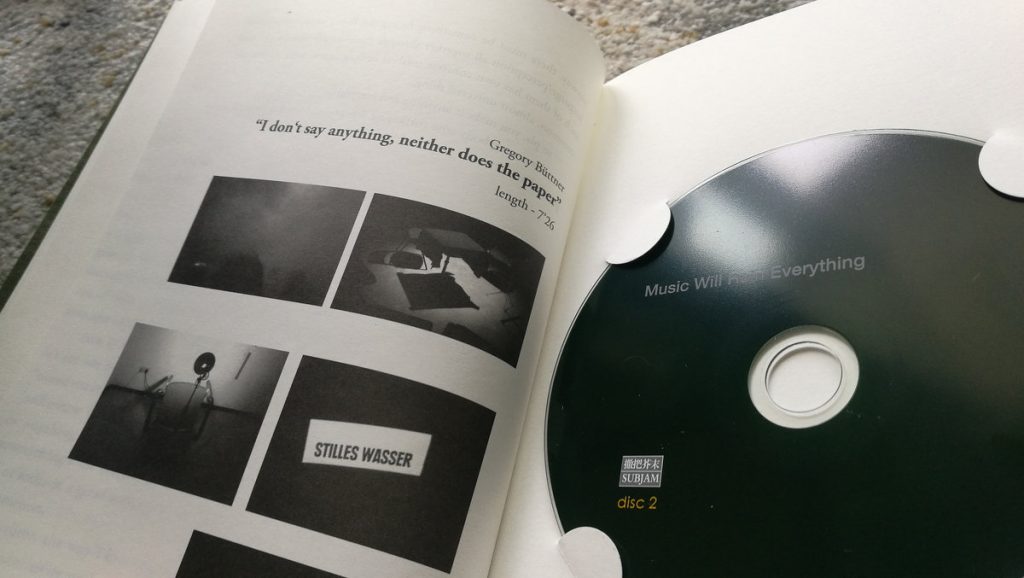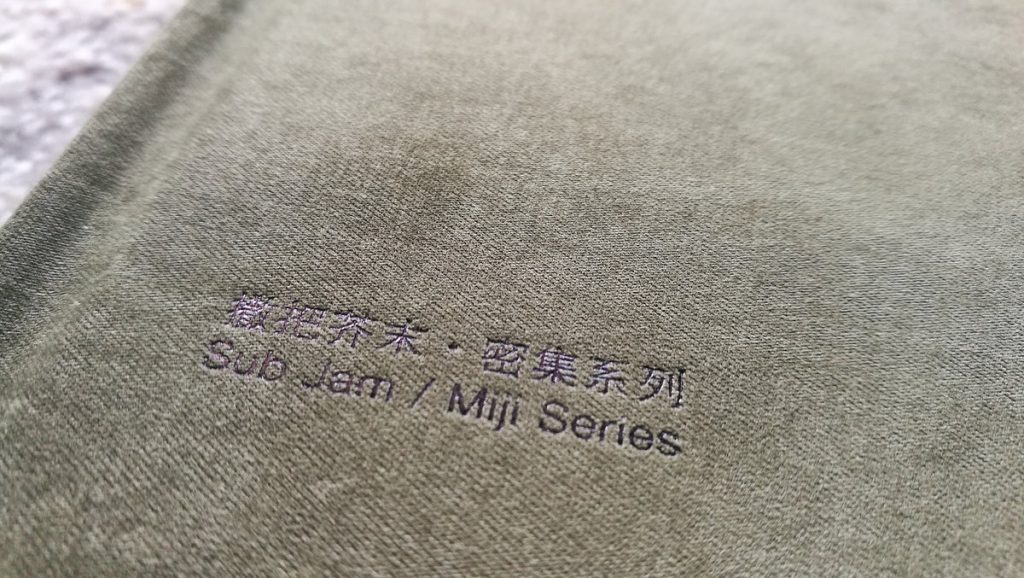 Yan Jun (editor) - Music Will Ruin Everything
It took a while before this publication, made in the summer of 2019, found its way from Beijing to my store.. But Yan Jun's books always need some time to become as special as they are: in the making, in the moving.
"the very reason i initiated this project was vanished in time. however, it's not very long time since it has suspending into this "physical object is dying" and "society is dying" situation. and it's long enough to coming back with ideas of "connecting objects and bodies over language" and "connecting an outer territory". so i have diving back to the files again, starting editing and translating, inviting few more physical entities and fortunately yihao joined as designer at this perfect moment.
the way this project runs is very simple: i show my friends this sentence "music will ruin everything" then ask them to contribute audio track and text or images. i tried my best to show it while we meet physically. but some were sent by emails, exceptionally. there is no rules and no clue. i don't explain why this title because i have no idea what it means.
for me what these people doing is a huge cluster of mass such as constellation. they are connected and growing. there are much more alikes surrounding them. the way they are connected is more important than their works. if you dig more on any one of them, you will find its own genealogy of sense and mind. which i have spent years to following and enjoying.
so pls, you make it anything and everything.
thanx everybody who participate this project ! you have ruined some parts of me." [Yan Jun]
I love this book's cover, the colour of it (like clay maybe) and of course the feel of it thanks to the velvet finish. Inside every contributor also contributed a text, a poem, an image or a drawing. All of them in a great variety. Paper and print are top quality. 181 pages, bi-lingual in Chinese and English.
The soundworks are on 2 CDs inside the book. Here are the tracks (and you can listen to them here):
1. Gregory Büttner – 101 – "I don't say anything, neither does the paper" 07:26
2. Toshiya Tsunoda – 102 – an incident of botanic garden Edinburgh 2012 14:54
3. noid – 103 – el paraisofono 12:25
4. Klaus Filip – 104 – 0 titel 00:08
5. Klaus Filip – 105 – 1 gutenerven 03:32
6. Klaus Filip – 106 – 2 emmesshoell 03:09
7. Klaus Filip – 107 – 3 promoschtzn 03:23
8. Klaus Filip – 108 – 4 bravodosi 00:51
9. Matija Schellander – 109 – The Drawing Is The Title 15:26
10. Roel Meelkop – 110 – sero 07:19
11. Leif Elggren – 201 – To Return 13:10
12. Zhang Liming – 202 – A Girl on the Keio Line 04:15
13. Jin Sangtae – 203 – Circle With No Hope 34:13
14. CM Von Hausswolff – 204 – Remnants of a Past 10:47
15. Olaf Hochherz – 205 – no karaoke 05:06
16. Li Qing – 206 – Dark Matter 03:33
17. Yu Yiyi – 301 – untitled 02 02:43
18. Yu Yiyi – 302 – untitled 08 00:59
19. Yu Yiyi – 303 – untitled 09 02:13
20. Yu Yiyi – 304 – untitled 15 02:16
21. Yu Yiyi – 305 – untitled 18 00:51
22. Yu Yiyi – 306 – untitled 23 02:14
23. Yu Yiyi – 307 – untitled 24 02:16
24. Taku Unami – 308 – Music Will Ruin Everything 01:56
25. Ryu Hankil – 309 – Music Runis Everything 01:50
26. Monica Brooks – 310 – my brother's front yard on sunday 08:43
27. Monica Brooks – 311 – the singing carpark 01:07
28. Seiji Morimoto – 312 – Sprite 14:07
29. Zhong Minjie – 313 – there's a conflict in time, please make it wider, gentler, slower and closer 14:31
30. Mattin – 314 – Estudio comparado: chalecos amarillos y Tik Tok 04:05
31. Ake – 315 – The Boring Song 12:01
Medium: Book + 2 CDs
Related Products