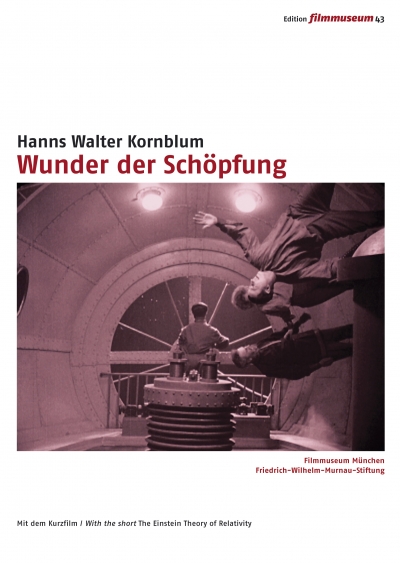 Hanns Walter Kornblum - Wunder Der Schöpfung
In the context of Germany's Kulturfilm genre, Wunder der Schöpfung was among the greatest achievements of the 1920s. The production was constructed, rehearsed, and shot over a period of two and a half years, under the supervision of Hanns Walter Kornblum. The idea to describe the universe and man's place in it well suited UFA's Grossfilm mentality, one year before the Metropolis catastrophe.
It was beautifully colored, using tinting and toning in a very elaborated way. Some visual ideas in the sequences with a space shuttle visiting different planets in the universe seem to have to be the inspiration for Stanley Kubrick's 2001: A Space Odyssey.
The film's symbol of progress and the new scientific era is a spacecraft, travelling through the Milky Way, making all the planets and their inspiring worlds familiar to us, with the extravaganza of their distinctive features. The film's educational intentions, however, become steadily more obscure, humorous, or even campy as this popularization project proceeds. With the excuse of presenting the end of the world a not-so-new concept as a new, undeniably scientific truth, the film veers happily along a new path, displaying detailed apocalyptic scenes of the end of mankind. For today's audiences, this amazing film demonstrates how the universe was comprehended in the 1920s, and how that view was sold to contemporary audiences.
Featuring:
Wunder der Schöpfung (1925, 92 mins) – musical score for piano and violin.
Also Kornblum's film The Einstein Theory of Relativity (1923, 29 mins), and  a talk by Kornblum recorded in 1968 (43 mins).
Medium: DVD
Related Products