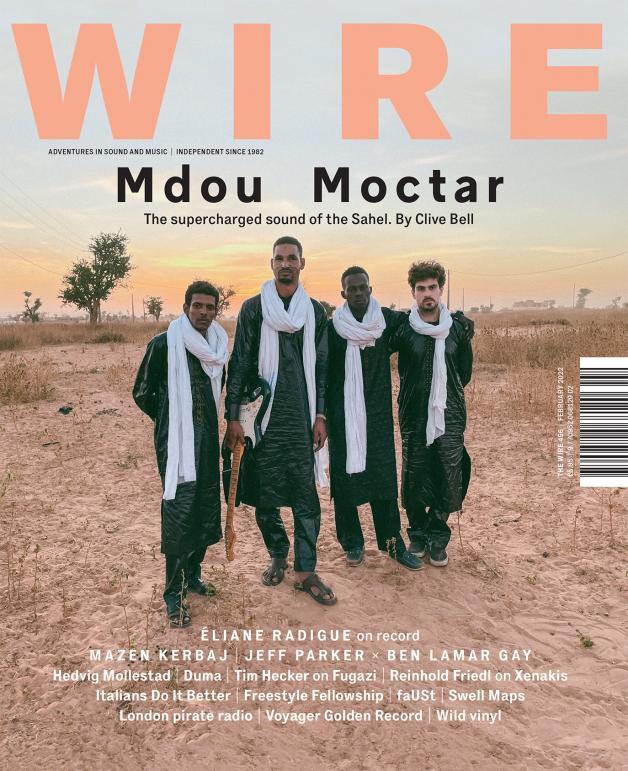 The Wire - # 456
On the cover: Mdou Moctar – The Nigerien kings of the almighty riff talk touring, rock, suffering and the invaluable discipline of the wedding circuit. By Clive Bell.
Mazen Kerbaj: The Lebanese musician, artist and film maker establishes global relationships via an idiosyncratic musical language. By Mariam Rezaei
Éliane Radigue: A user's guide to the swelling discography of the French composer. By Julian Cowley
Invisible Jukebox: Jeff Parker × Ben LaMar Gay: The Chicago master musicians put each other to the test with a mystery record selection.
Unlimited Editions: Dub Store
Unofficial Channels: Original Jungle Samples
Hedvig Mollestad: The Norwegian guitarist reaps the whirlwind. By Mike Barnes
Duma: Metal meets gabber for the Kenyan doom duo. By Miloš Hroch
Robbie Lee: New York improvisor reimagines the saxophone. By Andy Hamilton
Matthew J Rolin & Jen Powers: The Ohio guitarist and hammered dulcimer player keep the underground thriving. By Bill Meyer
Global Ear: Inventive linguistic play in Lisbon's hiphop scene challenges injustice. By April Clare Welsh
The Inner Sleeve: Tim Hecker on Fugazi's In On The Kill Taker
Epiphanies: Zeitkratzer's Reinhold Friedl finds liberation in the thundering noise bursts of Iannis Xenakis
Print Run: New music books: Hiphop photography, alien listening, wild vinyl, Swell Maps, and more
On Screen: New films and DVDs: Paul Duane's While You Live, Shine
On Site: Recent art shows: Spazio Per Azioni Luminescenti; Sweet Harmony: Radio, Rave & Waltham Forest 1989–1994
On Location: Recent live events and streams: faUSt, GLOR1A, EFG Jazz festival, Archie Shepp, Björk, and more.
As always, a great section of music reviews. Too many to mention here.
Medium: Magazine
Related Products