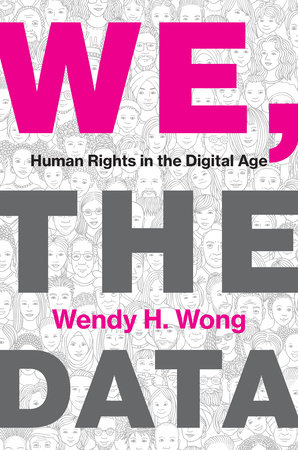 Wendy H. Wong - We, The Data
A rallying call for extending human rights beyond our physical selves – and why we need to reboot rights in our data-intensive world.
Our data-intensive world is here to stay, but does that come at the cost of our humanity in terms of autonomy, community, dignity, and equality? In We, the Data, Wendy H. Wong argues that we cannot allow that to happen. Exploring the pervasiveness of data collection and tracking, Wong reminds us that we are all stakeholders in this digital world, who are currently being left out of the most pressing conversations around technology, ethics, and policy. This book clarifies the nature of datafication and calls for an extension of human rights to recognize how data complicate what it means to safeguard and encourage human potential.
As we go about our lives, we are co-creating data through what we do. We must embrace that these data are a part of who we are, Wong explains, even as current policies do not yet reflect the extent to which human experiences have changed. This means we are more than mere "subjects" or "sources" of data "by-products" that can be harvested and used by technology companies and governments. By exploring data rights, facial recognition technology, our posthumous rights, and our need for a right to data literacy, Wong has crafted a compelling case for engaging as stakeholders to hold data collectors accountable. Just as the Universal Declaration of Human Rights laid the global groundwork for human rights, We, the Data gives us a foundation upon which we claim human rights in the age of data.
Paperback, published in 2023, 280 pages.
Wendy H. Wong is Professor of Political Science and Principal's Research Chair at the University of British Columbia, Okanagan.
Table of Contents:
1 DATA ARE EVERYWHERE 1
2 WHY HUMAN RIGHTS AND DATA GO TOGETHER 21
3 DATA RIGHTS 45
4 IS YOUR FACE YOURS? 65
5 DO WE NEED HUMAN RIGHTS WHEN WE'RE DEAD? 89
6 BIG TECH AND US 111
7 DATA LITERACY, OR WHY WE NEED LIBRARIES, NOT TWITTER 139
8 WE, THE DATA 163
Acknowledgments 183
Notes 187
Index 261
HSSS
Medium: Book
Related Products