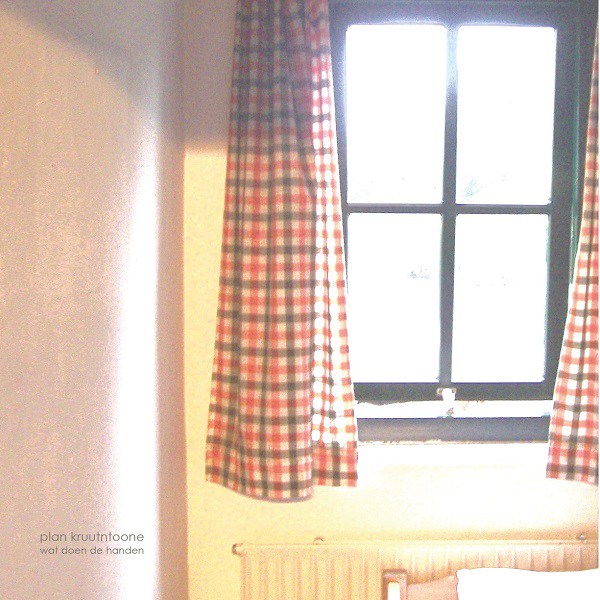 Plan Kruutntoone - Wat Doen De Handen
In my opinion, three Dutch bands stand out for their ability to have developed an original sound out of their (70s-80s) punk roots as well as their Dutch roots. The Ex of course, but, in Dutch language, it's De Kift and Plan Kruutntoone…
Hans Visser's long-standing project always manages to sound completely like Plan Kruutntoone and nothing else. The trio from way up north (Groningen), consisting of Visser himself on guitar, banjo and vocals, Bas Albas on (double)bass and Chris Muller on percussion, invokes the feeling of roaming the flatlands, leaning at an angle against the wind and rain, always on the move, in solitude.
The new album by Plan Kruutntoone is called 'Wat doen de handen/What are the hands at'. The album stands out by bringing together Plan Kruutntoone's uncompromising own music and pieces for string quartet, written by Hans. The notes bind it together, as do the disconcerting text fragments of Beckett ('grope in a panic in the mud for the opener that is my life but of what cannot as much be said could not as much be always said my little lost always vast stretch of time') alternated with those by Hans. They convey a sense of isolation that, by singing about it, opens up. The result is fragile at times, strangely compelling, harsh and repetitive at others.
'Wat doen de handen' was recorded with producer Dolf Planteijdt and is Plan Kruutntoone's fifth album, released May 2017
Strijk 2, 4 and 5 are part of the kiralykwartet; five pieces for string quartet by Hans Visser, performed by the Ravivo Quartet, recorded by Chris Muller.
The Samuel Beckett text fragments are taken from "Comment c'est/ How it is", in the Dutch translation of F.C. Kuipers, published by De Bezige Bij (1968). Other texts by Hans Visser.
1. litanie (de witte ruimten zijn de gaten) 07:33
2. strijk 4 / constant gejaag 01:56
3. strijk 2 02:27
4. broodreeks 04:02
5. constant gejaag, electrisch 02:43
6. Beckett en het meisje (bij de mensen blijven) 07:10
7. strijk 5 02:48
8. vergeefs gebed om slaap 03:35
Includes a download code.
Medium: LP
Related Products