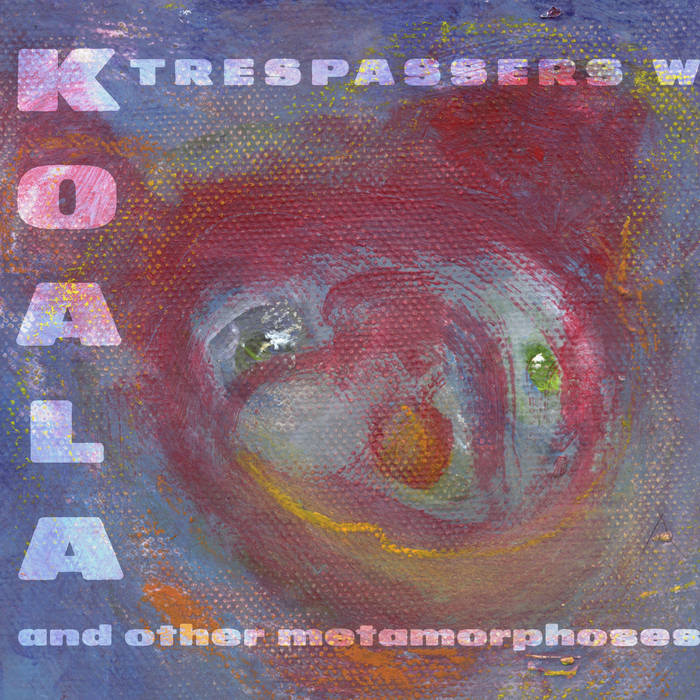 Trespassers W - Koala And Other Metamorphoses
After 2006 it was thought Trespassers W belonged to the past. Individual members chose their own path and singer Cor Gout intensified his career as a writer of poetry, short stories, essays and (in 2021) a novel. Being the musician that he is, he surrounded some of his books with music.
But blood appeared to be thicker than water, and in 2014 Trespassers W rose from its ashes with the one-sided lp One Sided Love Affair (2014), followed by the 7" Stowaway ep (2016) and the CD Ferrageau, an epic poem written by Cor Gout and put to music by Lukas Simonis and Frans Friederich. And, believe it or not, in those awkward Corona days they managed to record this new album: Koala And Other Metamorphoses. Considering that since 2006 Trespassers W metamorphosed several times, but through the years the band never disappeared. On the contrary: it changed back into the elusive band they have always been.
Frans Friederich: electronics, trumpet / Cor Gout: voice / Lukas Simonis: guitar, electronics, background vocals / Henk Bakker: bass clarinet on King Frog, Nina Hitz: cello on track 4.
1. Koala 03:52
2. Black Cat 04:21
3. Wild Boar 03:10
4. The Song of the Song Thrush 04:17
5. Squirrel 04:38
6. Panther 04:44
7. Road Song of the Bandar Log 03:52
8. King Frog 04:51
9. Peacock's Deceit 03:30
10. The Trail of the Hedgehog 02:48
11. Racoon 03:48
12. Birdie Hop 03:16
Medium: LP
Related Products