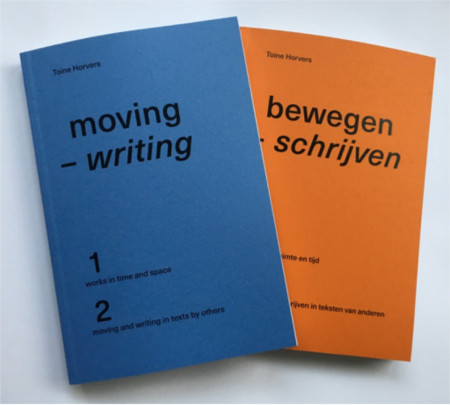 Toine Horvers - moving – writing
Essentially a meta-project, these meticulous but short descriptions of 120 performances in time and space that Horvers did from 1979 up till now! Because, I think, describing each work in chronological order from the perspective of (more or less) the present is literally a literal performance in itself.
Horvers' selection of 120 is a fair number considering the ca. 255 actions, installations and publications he lists on his website. The descriptions are never longer than 10 lines.
"Because of the possible role that the book could play in the discussion about conserving and documenting volatile works of art, I included related texts by other writers who directly or indirectly responded to my writing". The contributers are (for the English as well as the Dutch version):
Marcus Bergner, Hannes Böhringer, Florian Cramer, Jan Van Den Dobbelsteen, Nell Donkers, Tim Etchells, Ger Groot, Geert Koevoets, Thomas Körtvelyessy, Dom H. van der Laan, Dick Raaijmakers, Jan Laurens Siesling, Sandra Smets, Hans Stevens, Ieke Trinks, Samuel Vriezen, Ciel Werts, Emilie Gallier.
Editing and text advice Kathrin Wolkowicz Dick van Teylingen
Softcover, edition of 250 copies per version, hand-signed on the back.
Number of pages: 192
Click here for the Dutch version.
Medium: Book
Related Products