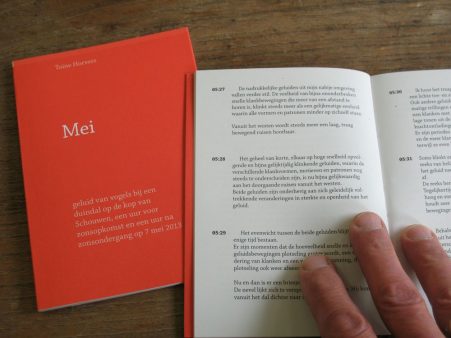 Toine Horvers - Mei
In Dutch.
"sound of birds in a dune valley on Schouwen, an hour before sunrise and an hour after sunset on 7th of may 2013".
Toine Horvers is a Rotterdam-based artist using spoken and written language as material in performances, drawings and books.
Not burdened by any knowledge of birds whatsoever, I tried to birds describe the sounds of birds on the island Schouwen, by just using words and phrases and not naming their source. I did this in May, when the energy of the birds is at its peak.
In order to be able to approach sound as autonomous energy, I stripped my language of the styles and tools which are often used in describing sound: sound imitating words, words derived from seeing, words conveying human feelings, poetic / expressive phrases, technical sound and musical terms, similes and metaphors.
Wherever possible, I replaced words of Latin or French origins with words that I felt were more descriptive in nature.
These restrictions and interventions were important in my attempt to come closer to the fundamental nature of both language and sound through listening and writing.
Nice little book, size 11 x 15 cm, about 30 pages.
Medium: Book
Related Products