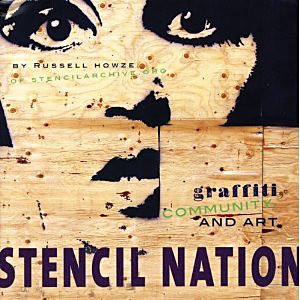 Russell Howze - Stencil Nation: Graffiti, Community, and Art
Without a doubt, stencils are the fastest, easiest, and cheapest method for painting an image on a wall, a sidewalk, or practically anywhere. Stencil Nation focuses on the unexpected mix of this lively, accessible medium-from famous artists including Banksy to international street stencils and gallery shows-to reveal engaging aspects of an intentionally secretive creative community.
With dynamically illustrated perspectives from the niches of the art form, female artists, documentarians, and the growing online community of the international scene are featured in this fresh collection of photographs and essays curated by StencilArchive.org's founder, Russell Howze. New artists, often utilizing stencil art in unconventional ways, are also featured.
Stencil Nation also represents the art of lesser-known urban scenes, including Poland, Romania, and Israel. Additionally, Stencil Nation builds upon previous published works to give the most extensive and up-to-date history of stencil art, as well as how-to tips from the artists themselves.
Medium: Book
Related Products