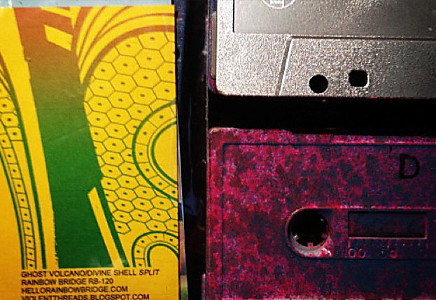 Ghost Volcano & Divine Shell - Split recycled tape
Ghost Volcano is the weirdo Baltimore noise collective, with a preference for electronics, drums, various objects, warped records and all sorts
of other matter to carefully pluck, flick, strum, bow and kick around to
create interesting uses of space and dynamics. Ghastly compositions
and improvisations that actively feed off each other. Definitely a
multiple-listen experience. Divine Shell is the synth-based drone/harsh
noise project of Derek Setzer who currently resides somewhere out there
in the western wasteland. Color artwork printed on yellow card stock with hand-painted tapes
housed in cassette bags with liner notes and vocabulary flash cards.
Limited to 40.
Medium: Music Cassette
Related Products