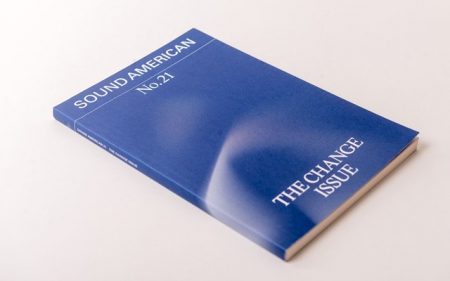 Sound American - Issue 21: Change
Sound American is a music journal both in print as online, that trumpeter/composer/writer Nate Wooley began publishing in 2012. Issues have focused on musicians such as Anthony Braxton, John Cage, Pauline Oliveros, David Dunn, Don Cherry, Christian Wolff, and Cornelius Cardew. Topics such as Gospel Music, Networking, Instrument Building, Ritual, Jazz, and Propaganda have been explored.
This issue, themed around change and growth, features words by or about Jeremy Toussaint-Baptiste, Ornette Coleman, Nicole Kaack, Bradford Bailey, G. Lucas Crane, Jennie Gottschalk, Ambrose Akinmusire, Mats Gustafsson, Peter Margasak, Terry Riley, Kim Brandt, John Cage, Josh Sinton, Edgard Varése, Marc Hannaford, John Zorn, Matthew Mehlan, Million Tongues Festival, Alex Mincek, Lester St. Louis, and Steve Lehman. Softcover, 128 pages, illustrated.
"Sound American is a great resource for anyone interested in experimental music. I find the journal's writing to be passionate, informative and thought provoking. Each issue invites readers to explore new sounds and new ideas written by some of today's most interesting writers, thinkers and musicians." (Chris De Chiara for Avant Music News)
Medium: Magazine
Related Products