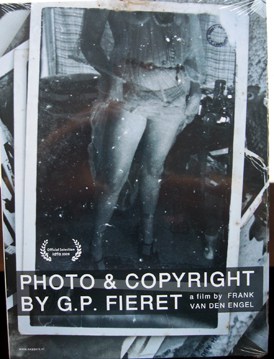 Frank Van Den Engel - Photo & Copyright By G.P. Fieret
Gerard Fieret (1924-2009) managed to antagonize the entire late sixties establishment with his grainy women's portraits. In his mouse-infested studio he photographed his semi-or wholly undressed models as well as himself. His photographic work is increasingly recognised by collectors and museums, a trend too late to lend him any benefit.
This documentary film was shot during the final two years of his life. The camera shows Gerard Fieret to be alternately lucid and confused, aggressive and suave, stubborn and cooperative, accusing all and sundry and bemoaning his physical decline. Sixties models reminisce about the sometimes bizarre sessions, and photographic experts and art dealers speak about this versatile artist's singular body of work. At the end of his life a major discovery is made: on the Duindicht country estate near The Hague, in the mole catcher's cottage next to the trailer which had become his home, negatives which were thought to have been lost are discovered, stuffed into jerry cans.
50 minutes, PAL/16:9
subtitled: dutch/english
More on this documentary see also the site of production company: Photo & Copyright By G.P. Fieret by Zeppers Film & TV
Medium: DVD
Related Products