Home
/
Books & Magazines
/ Nonsequiturs – Thoughts, Writings & Lectures on Improvisation, Composition and Interpretation
Back
Out of stock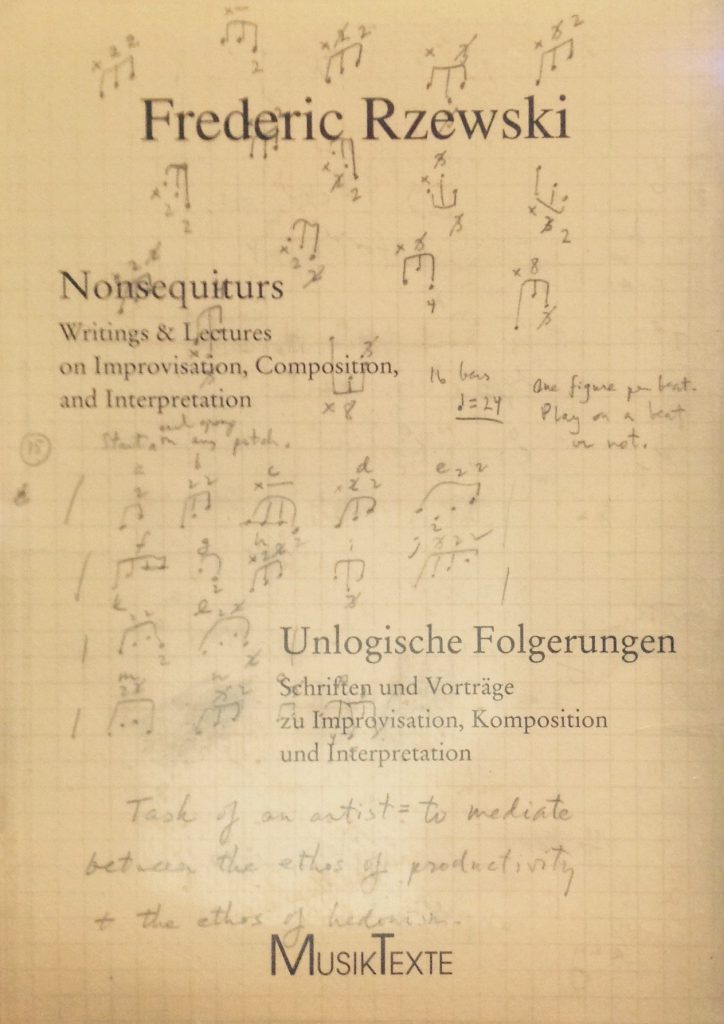 Frederic Rzewski - Nonsequiturs – Thoughts, Writings & Lectures on Improvisation, Composition and Interpretation
Or: Unlogische Folgerungen – Schriften und Vorträge zu Improvisation, Komposition und Interpretation.
To anyone interested in the history of improvisation within contemporary music, the avantgarde pianist/composer Rzewski is a central figure. Earle Brown comes chronologically before him, John Zorn after. In Europe Barry Guy and Heiner Goebbels helped to carry the flame.
In the '60s he was a co-founder of Musica Elettronica Viva with Alvin Curran and Richard Teitelbaum. MEV conceived music as a collective, collaborative process, with improvisation and live electronic instruments prominently featured.
Many of Rzewski's works are inspired by secular and socio-historical themes, show a deep political conscience and feature improvisational elements. One of his best-known work is "The People United Will Never Be Defeated!", 36 variations on the Sergio Ortega song "El pueblo unido jamás será vencido."
Here's an extensive review by Daryl Runswick and if you want to get a really good picture, read him: http://www.musicalpointers.co.uk/articles/generaltopics/RzewskiRunswick.html
If you don't have that much time, just have a look at the Table of Contents to get a hint of the richness of this book. It's bilingual, with a parallel German translation on the right-hand pages and the original English texts on the left.
Preface
Seeing Things in Unusual and New Ways by Dieter Schnebel
Composing, Performing, Improvising by/von Gisela Gronemeyer and/und Reinhard Oehlschlägel
Music, What for?
Nonsequiturs. A Lecture with Music
On Ambivalence. The Effects of Music on Society
Complexity. About Our Job as Artists
The Song of the Sphinx. On Modernism
Improvisation and Composition
Little Bangs. Towards a Nihilist Theory of Improvisation
Inner Voices. In Search of a More Sponataneous Form of Writing
The Mystery of Writing. The Zeitgeist Ensemble and the Solitary Composer
Interpreting the Moment. On Improvisation and the Art of Forgetting
"Write the Book." For Heinz-Klaus Metzger
A Fresh New Wind. Improvisation and Composition in 1988
The Mechanics of a Love Relationship. Imitation Love
Inspiring the Love of the Art. Teaching Composition Tomorrow
Melody as Face. On the Interpretation of Perceived Phenomena
Second Structure. For Petr Kotík and Other Friends
Creating out of Nothing. Parma Manifesto
Oral History
"I am in the habit of trying to relate my work to the world around me" Conversation with Vivian Perlis
Music and Politics
Music and Political Ideals. Lecture at the University of Wisconsin
The Composer and the Tradition of Art Music
Today's Art and Today's Society. Lecture at Cleveland State University
A Variety of Dialects. Some Political Currents in Modern Music
"We are the pupils of the working class." Hanns Eisler Today
Some Recent Examples of Political Music in America
Private or Collective? The Foundations of a Future World Revolutionary Music
Musica Elettronica Viva (MEV)
Calculated Risk
Collective Music
MEV. Reflections on Its Tenth Anniversary
A Short History of MEV
The Secret of the Labyrinth. Pages and Fragments
Work Songs
Spacecraft
Zuppa
Addendum: A Recipe by Alvin Curran
Sound Pool
On the Road. Letters 1967–1968
Early Compositions
Provisory Confession. Remarks on My Recent Music
Zoologischer Garten
A Photoresistor Mixer for Live Performance
Dictionary Articles
Intellect and Intuition. Non-metrical Rhythm Since 1950
Signals fom the Past and the Future. On Performance
Experimental Forms of Musical Notation. Prose Music
About Others
Cornelius Cardew
Giacinto Scelsi
Olivier Messiaen
John Cage
Henri Pousseur
David Tudor
Christian Wolff
Steve Lac
Program Notes
Speculum Dianae / Les Moutons de Panurge / Last Judgment / Jefferson / Falling Music / Coming Together / Attica / Struggle / The People United Will Never Be Defeated! / Thirteen Instrumental Studies / Four Pieces / Song and Dance / Squares / Moonrise with Memories / Three Pieces for Saxophone, Trombone, and Piano / The Housewife's Lament / It Makes a Long Time Man Feel Bad / North American Ballads / A Long Time Man / The Price of Oil / Le Silence des espaces infinis / Aria / Antigone-Legend / Satyrica / Una breve storia d'estate / A Machine / Mayakovsky / Mary's Dream / Wails / Lost and Found / To the Earth / Force / Nostalgia / Eggs / Chains / Imitation Love / The Triumph of Death / The Turtle and the Crane / Mayn Yingele / Fantasia / Roses / Aerial Tarts / Whangdoodles / Bumps / Ludes / Sonata / Andante con moto / De Profundis / Knight / A Life / The Burghers of Rostock / Holes / Crusoe / Whimswhams / Snippets / Night Crossing with Fisherman / Fougues / Scratch Symphony / The Days Fly By / Trio / Main Drag / Pocket Symphony / Honk / Stop the War! / The Road / The Babble / Johnny Has Gone for a Soldier / Cadenza / Dust / Bring Them Home! / Spells / Spoils / Second Hand, or Finally Alone / Fortune / Snaps/ Nanosonatas
List of Works
Index/Register
Published in 2007, 576 pages.
Medium: Book
Related Products