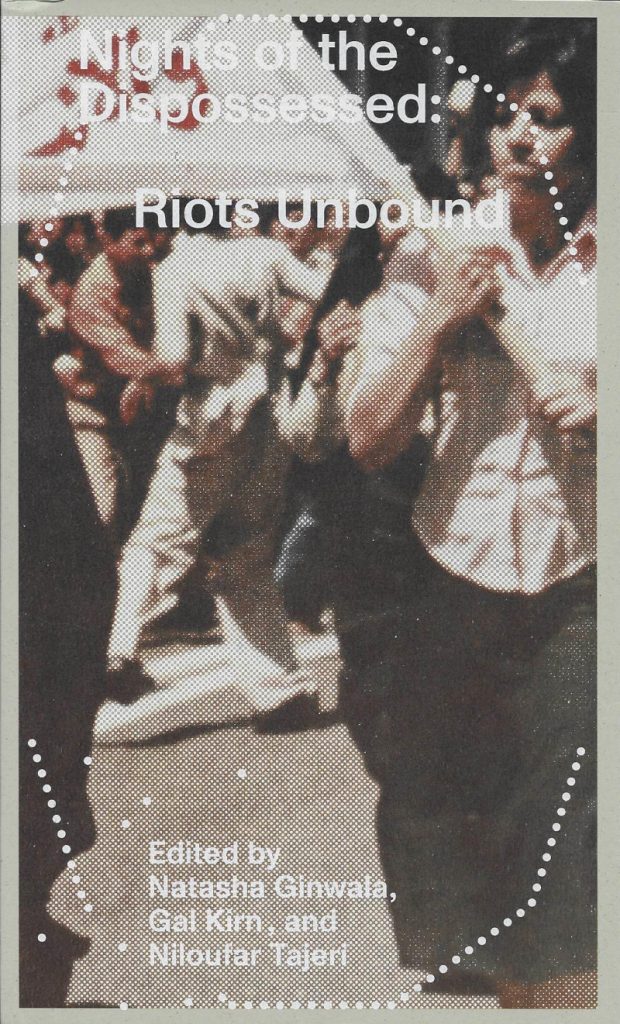 Natasha Ginwala, Gal Kirn and Niloufar Tajeri (Eds.) - Nights of the Dispossessed: Riots Unbound
Brings together artistic works, political texts, critical urban analyses, and research projects from across the world in an endeavor to "sense," chronicle, and think through recent riots and uprisings—evoking a phenomenology of the multitude and surplus population.
With contributions from Asef Bayat, Joshua Clover, Vaginal Davis, Keller Easterling, Zena Edwards, Nadine El-Enany, Dilip Parameshwar Gaonkar, Gauri Gill, Natasha Ginwala, Natascha Sadr Haghighian, Louis Henderson, Satch Hoyt, Hamid Khan, Gal Kirn, Josh Kun, Léopold Lambert, Margit Mayer, Vivek Narayanan, Ai Ogawa, Oana Pârvan, Elizabeth A. Povinelli, SAHMAT, Thomas Seibert, Niloufar Tajeri, Chandraguptha Thenuwara, Dariouche Tehrani, and Ala Younis.
About the Editors
Natasha Ginwala is an associate curator at the Gropius Bau in Berlin and artistic director of the 13th Gwangju Biennale with Defne Ayas. Ginwala has curated several international exhibitions and regularly writes on contemporary art and visual culture.
Gal Kirn has a PhD from the University of Nova Gorica in Slovenia. He has since worked, among other places, at the Berlin Institute for Cultural Inquiry, Humboldt University in Berlin, GWZO in Leipzig, and the Akademie Schloss Solitude.
Niloufar Tajeri is an architect, an activist, and a writer. She teaches in the department of history and theory of architecture and city at the TU Braunschweig, where she is pursuing a PhD.
Paperback, published in 2021, 432 pages.
Table of Contents
1. Shake the Ground: A Foreword by Keller Easterling
2. A Slow Cancellation of the Future and the Fires Next Time
Natasha Ginwala, Gal Kirn, and Niloufar Tajeri
3. The Manifesto Unwritten by Satch Hoyt
Trouble with Riots: Alternative Definitions and Political Histories
4. Introduction by Gal Kirn
5. Demos Noir: Riot after Riot by Dilip Parameshwar Gaonkar
6. Revolts, Resentment, Resignation: Five Theses on the Negative Dialectics of Post-Marxist Socialism
Thomas Seibert
7. No One Leaves Delila–A (W)rap on Riots
Natasha Ginwala in conversation with Vaginal Davis
8. Ideologies of Riot and Strike by Joshua Clover
9. "They Been Jealous, Must Be"–Toxic Sovereignty, Dispossession, and the Extimacy of Riots
Elizabeth A. Povinelli
10. Riot Act, April 29, 1992 by Ai Ogawa
11. Pat–Riot–Against the Slow Cancellation of the Future by Ala Younis
Mnemonic Spatiality of Violence
12. Introduction by Niloufar Tajeri
13. Riots as Contestations of Neoliberal Urbanism by Margit Mayer
14. Built to Be Torn Down, Fed to Be Starved, Resurrected to Be Disposed Of: Capitalism is a Riot, a Riot from Above
Gal Kirn and Niloufar Tajeri
15. Revolving Anger & The Tarot Banksy by Zena Edwards
16. A Night of the Dispossessed: The Imaginable Violence of the Grenfell Tower Fire
Nadine El-Enany
17. Chrono-Cartography of the October 17, 1961, Massacre of Algerians in Paris
Léopold Lambert
18. 15 Years After 2005: Anticolonial Reflections on the Concept of "Riots" in the French Context
Dariouche Tehrani
19. Cities of Dissent by Asef Bayat
20. 1984 by Gauri Gill
Figuration/Disfiguration: Racial Logic and Representation
21. Introduction by Natasha Ginwala
22. In Search of 1949 by Vivek Narayanan
23. Unruly Life: Subverting "Surplus" Existence in Tunisia by Oana Pârvan
24. Evidence of Things Unseen But Heard by Louis Henderson
25. Re-looking at Riots in Contemporary Sri Lanka by Chandraguptha Thenuwara
26. Black Side of the Hidden Moon – Unthreading Thoughts on the Riot in My Head by Satch Hoyt
27. SAHMAT: Cultures of Dissent and Collective Memory
28. The Time is Still, Always, Now! by Josh Kun
Biographies
Acknowledgments
Medium: Book
Related Products