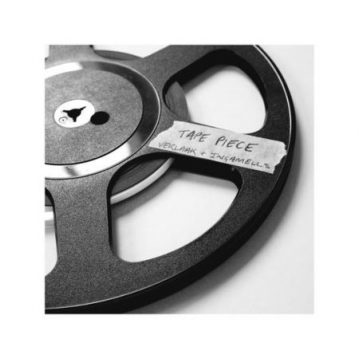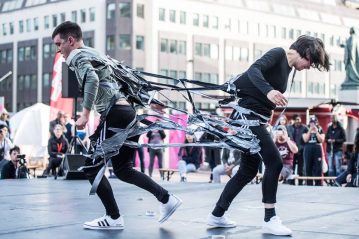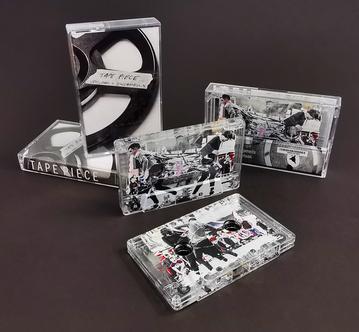 Maya Verlaak and Andy Ingamells - Tape Piece
Two performers each take a roll of adhesive tape and simultaneously wrap it around both of their bodies. They pause to catch their breath, then try to break free from the tape. The acoustic sounds that this produces are amazing, which everyone can probably imagine knowing well the sonic character of this everyday material. The title Tape Piece of course evokes 20th-century avant-garde electronic music produced using magnetic audiotape. But this performance playfully recasts those complex rhythms and sounds using entirely physical means, as two performers fully integrate movement and sound.
Tape Piece has been performed around the world, from Florida, Arizona, Ohio and California in the United States, to London, Dublin, Paris, Bruges and Berlin in Europe, and by leading contemporary music ensembles. This limited-edition cassette release was recorded directly onto magnetic tape and duplicated using analogue reproduction techniques, completely bypassing digital technology. The housing of the tape has been skilfully printed with images of the performers. A concept album in every sense of the word!
Side A:
Movement 1, Performed on Poundland Masking Tape
Movement 2, Performed on Poundland Clear Tape
Movement 3, Performed on Poundland Gaffer Tape
Movement 1, Performed on BNM Masking Tape
Movement 2, Performed on WHSmith Clear Tape
Movement 3, Performed on WHSmith Gaffer Tape
Side B:
Movement 1, Performed on Poundland Masking Tape
Movement 2, Performed on WHSmith Clear Tape
Movement 3, Performed on Poundland Gaffer Tape
Movement 1, Performed on Eurogiant Masking Tape
Movement 2, Performed on Poundland Clear Tape
Movement 3, Performed on Icon Craft Gaffer Tape
12 Songs, 17 Minutes total
Released in 2020.verlaak
Medium: Music Cassette
Related Products