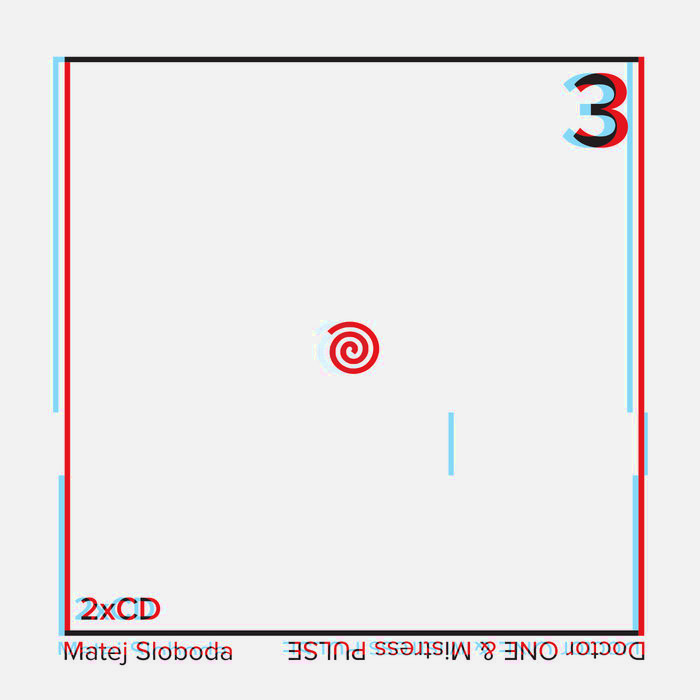 Matej Sloboda - Doctor ONE & Mistress PULSE
Ensemble Spectrum was "ensemble in residence" during the Darmstad Summer School & Festival in 2023. A very open-minded chamber ensemble from Slovakia, specialising in 20th and 21st century music and always eager to perform lesser-known and new works, and to overcome mental and technical challenges in the process.
This album from 2022 contains the first six pieces from an open series of exploratory pieces composed by Matej Sloboda 2019-2021.
In their own words:
What you can expect, is a sonic sensation-oriented slowly progressing pieces, where you have enough time to dive deep into every small wave created by interactions of instruments and harmonic canvas – a concept of sustained, stable sound upon which other more complex processes are being produced.
From the liner notes by Ulrich Krieger:
"… Much in the tradition of Tenney and Nono, Matej Sloboda dedicated many of his 'Untitled' pieces to a diverse range of pioneers in the field of static music: Alvin Lucier, James Tenney, György Ligeti, and Phill Niblock. Furthermore, he even points to mediaeval ars antiqua music with the subtitle of his piece #6: Hoquetus.
But Sloboda has one element that is different from most of his predecessors: the harmonic canvas. This is a drone that can be performed on sine waves or ebow pianos and gives the performers a tonal 'canvas' to relate to and interact with. Sonically some of his pieces explore microtonal beatings and others use just intonation concepts. But in general, these pieces are about slow processes and wonderful haunting, immersive soundscapes, which invite a contemplative "deep listening" and "sonic awareness" — as Pauline Oliveros has put it."
Tracks:
1. untitled #1 – für ES 16:14
2. untitled #3 – Harmonien mit Ligeti 17:48
3. untitled #5 – to Phill 20:38
4. untitled #4 17:09
5. untitled #2 – A tribute to A. Lucier and J. Tenney 21:56
6. untitled #6 – Hoquetus 23:15
Performers:
Katarína Turčinová | flute/bass flute
Peter Ulmann | oboe/cor anglais
Barnabás Kollárik | clarinet/bass clarinet
Martina Lišková | clarinet/bass clarinet
Lukáš Golej | horn
Mikuláš Havrila | trombone
Denisa Uherová | electric guitar
Adam Szendrei | violin
Andrej Turčin | violin
Jakub Chlepko | viola
Ľudovít Kara | viola
Andrej Gál | cello
Michal Haring | cello
Dávid Šarkézi | double bass
František Výrostko | double bass
Matej Sloboda | electric guitar, harmonic canvas (fixed media), artistic director
Recorded in March 2022 in Clarissine Concert Hall and Smile4Urecords, Bratislava, Slovakia
See other releases by Ensemble Spectrum here.
Medium: 2CD
Related Products