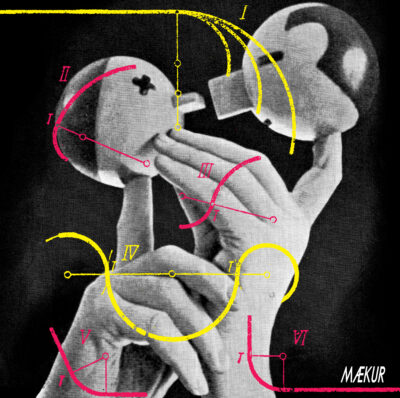 MÆKUR - CONDITIONS : 1218-0719
MÆKUR is the collaborative project of Maiа Urstad, Anton Kats and Eva Rowson. The collective synthesizes artistic, sonic and radiophonic practices to research communication technologies, amateur radio networks and archival practices. This is their first release, and it was presented during the Sonic Acts Academy event in Amsterdam, February 2020.
As new technological forms open up and others become obsolete, MÆKUR are interested in how methods of self-organising, listening and transmitting as well as the sounds of the technology itself – its errors, interruptions and signals – also evolve. At the core of the MÆKUR collaboration is an ongoing archive, to emphasise multiple soundings of technical development and the different communities that form around it.
'CONDITIONS : 1218-0719' features live performances and excerpts from the MÆKUR archive, including recordings from the Blind Veterans UK Amateur Radio Society, Bergen Kringkaster (Bergen Broadcasting Association) and the Deutsche Welle radio archive. The recordings were gathered and improvised during residencies at Bergen Kunsthall, Norway (2018) and Lighthouse, Brighton, UK (2019), as part of 'Who's doing the washing up?', an 18-month artist commissioning programme to explore how different voices, histories and types of work are valued in imaginations of the future, and with what consequences.
So what does this all sound like? I hear a variety of atmospheres, some controlled by dark, minimal electronic beats and some that sound more open and intuitive: radio collages including static, field recordings and fragments of spoken word.
Tracks:
Side [ ]
Distant voices still live – Maia Urstad (19:33)
Side < >
Small Crystal-Anton Kats (07:43)
RS 52 -Maia Urstad and Anton Kats (08:23)
A collaborative release co-produced by Bergen Kunsthall (Norway), Lighthouse (United Kingdom), Sonic Acts and Paradiso (Netherlands).
Medium: LP
Related Products