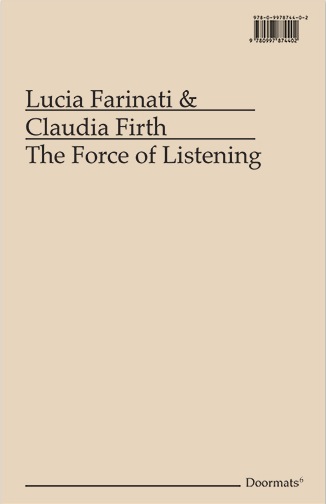 Lucia Farinati & Claudia Firth - The Force Of Listening
The Force of Listening explores the role of listening in the contemporary intersection of art and activism and asks what potential for transformation it might facilitate.
Written as a constructed montage in dialogic form, The Force of Listening draws from conversations with artists, activists, and political thinkers which took place during 2013-2014, in the aftermath of the wave of protests and occupations against austerity. Members of Ultra-red, Precarious Workers Brigade and feminist consciousness-raising groups, artists Ayreen Anastas and Rene Gabri, media theorist Nick Couldry and philosopher Adriana Cavarero meet on the page to discuss questions of listening. Conversations cover themes such as collectivity, solidarity and resonance, the politics of voice, the challenges of institutional frameworks and reflections on the Occupy movement. In particular, The Force of Listening traces a legacy from feminist theory and consciousness-raising practices through the narration of first-hand experience (from Pat Caplan and Anna Sherbany) and discussions on ethics and politics of listening. In so doing, it inserts a vital component that often gets missed in debates on the sonic and explores how attention and interconnection might exist in the face of current structures of neoliberal governance and the instrumentalized modes of being it fosters.
Lucia Farinati is a researcher, curator and activist. Her research focuses on dialogic aesthetics, especially on the work of artist William Furlong and the feminist writing of Carla Lonzi which she has activated through collective readings and radio broadcasts. She is currently working on an extensive research project on Audio Arts in collaboration with Tate Archive as part of her PhD at Kingston University – FADA, London.
Claudia Firth is currently a PhD researcher at Birkbeck College, University of London in Cultural and Critical Studies. She has a background as a visual artist and facilitates workshops in both arts and activist arenas. She has worked with activist groups such as the Precarious Workers Brigade and the Radical Housing Network. Her current research interests are organization and collective knowledge production, tools and machines, and the intersection between aesthetics, affect and politics.
From the "Doormats" series of pocket books by Errant Bodies Press, published in 2018, paperback, 196 pages.
Medium: Book
Related Products