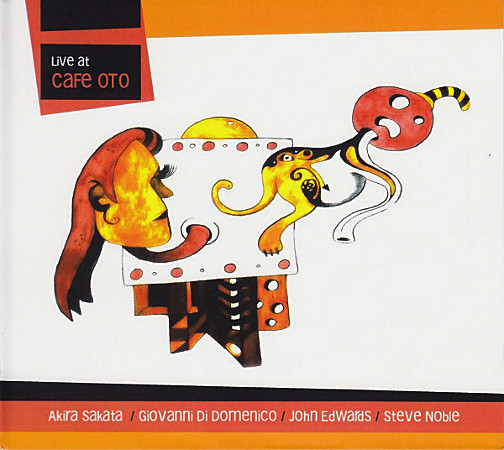 Akira Sakata, Giovanni Di Domenico, John Edwards and Steve Noble - Live At Cafe Oto
Recorded in concert at London's Cafe Oto in January 2014, this album features the kind of cosmopolitan ensemble in which the venue specialises. It brings together veteran Japanese reedsman Akira Sataka and Spanish pianist Giovanni Di Domenico with London's own John Edwards and Steve Noble.
Across its forty minutes these recordings crackles and fizzes with energy so that there is never a flat spot or dull moment to be heard. That is not solely down to the bassist and drummer but also to Sataka and Di Domenico too, who both proved themselves equal to their bandmates. Sataka himself belied his age, giving a bravura performance in which he pulled out all the stops, augmenting his rapid-fire saxophone and clarinet playing with interludes of percussion and some demonic vocalising. For his part, the pianist was equally energised, underpinning proceedings with a constant accompaniment of fractured chords that—as with Edwards and Noble—were a perfect complement to Sataka without stealing his thunder. The end result was a quartet in which the component parts were in balance and fitted each other just right, so they sounded as if they have been together for years.
Medium: CD
Related Products