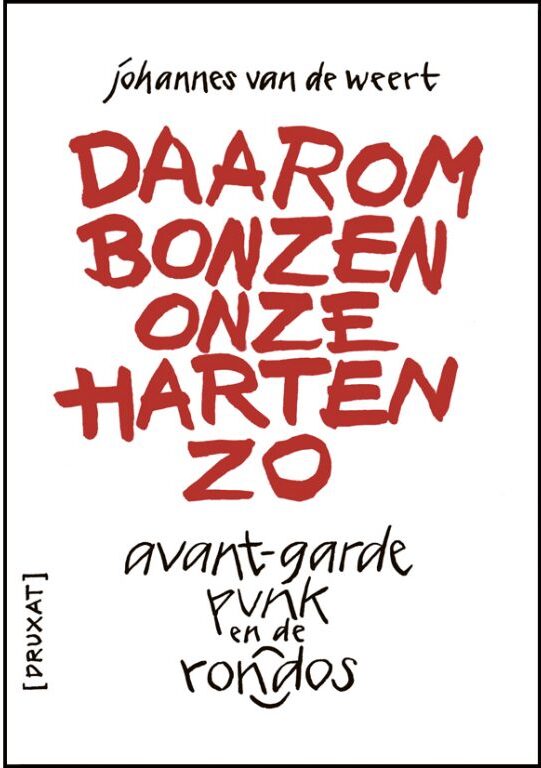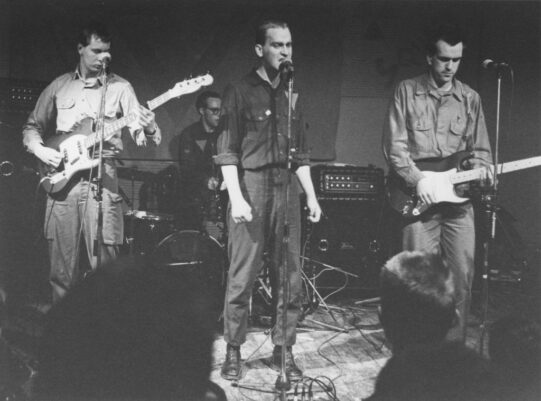 Johannes van de Weert - Daarom Bonzen Onze Harten Zo
In Dutch. An autobiographical story about punk, avant-garde and underground culture in New York, London and Rotterdam. The author was a member of the short-lived but legendary band The Rondo's. He was also the creator of the legendary subversive cartoon series Red Rat.
Daarom Bonzen onze Harten zo (That is why our hearts beat so loud) is an impressive volume, 784 pages, 21 x 14.8 cm, not abundant in illustrations but an enormous collection of stories. Hopefully for non-Dutchies it will be translated in the future…
DAAROM BONZEN ONZE HARTEN ZO begint met de vraag die de schrijver Johannes van de Weert zichzelf stelt: 'Hoe kom ik er ooit toe om als zanger van de Rondo's het gehate systeem zo rücksichtslos aan de orde te stellen? Is punk mijn bestemming? Mijn noodlot? Maar wat is punk eigenlijk? Een muziekstijl? Een jeugdcultuur? Een jongerenrevolte? Een avant-gardebeweging misschien?'
Dit is een boek over punk. Over punk in Londen en over punk in New York. Over punk in Rotterdam. Over Kunst Kollektief Dubio. Over punkband de Rondo's. Over fanzine Raket. Over King Kong records. Over Red Rock collectief en Red Rat strips. Over bombardement en wederopbouw. Over crisis en armoede. Over verveling. Over punk als jeugdcultuur en over punk als avant-garde. Over dada. Over futurisme. Over surrealisme en situationisme. Over Provo en Pop art. Over Rote Armee Fraktion en politiestaat. Over het einde van de traditie en de sprong in het Niets. Over nihilisme en gelatenheid. Over Huize Schoonderloo. Over Tändstickorshocks en Rode Wig. Over Rock Against Religion. Over de verbeten strijd voor een nieuwe mens, een nieuwe samenleving, een nieuwe kunst en een nieuwe spiritualiteit. Over Vondelvrijstaat en Kroningsoproer. Over Weltinnenraum en Communistisch Manifest. Over dandy's tegen burgers. Over ratten tegen varkens. Over krakers tegen ME'ers. Over Crass en de Rondo's. Over The Ex en de Spaanse Burgeroorlog. Over Kuifje en Krazy Kat. Over Nietzsche en Rimbaud. Over Bergson en Friedlaender. Over kruisende lichtstralen en zwarte vierkanten. Over de dood van God en de geboorte van het Ik. Over Apocalyps en Zeitgeist. Over de moed der wanhoop, de vlucht naar voren en de drang tot vernietiging. Over oorvijg en vuistslag. Over zelf doen en zelfrealisatie. Over menswording. Over autonomie. Over liefde. Over Begeisterung versus Ungeist. Over de angst voor vrijheid en de traagheid des harten. Over hanenkammen en leren jacks. Over skinheads en anarcho-punks. Over dromen en idealen. Over de ondergang van punk. En over avant-garde als permanente revolte, want the beat goes on en der Kampf geht weiter: Daarom bonzen onze harten zo!
Softcover, published in 2023, 784 pages.
Publisher:
Druxat
/ ISBN: 9789076154152
Medium: Book
Related Products