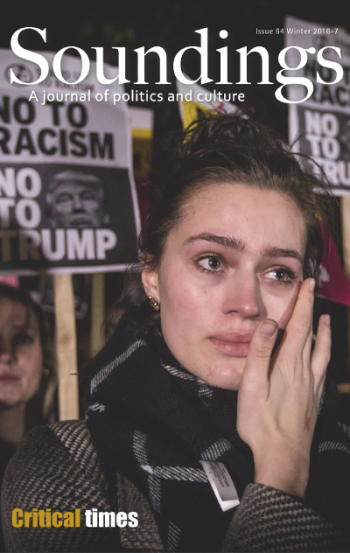 Soundings - Issue 64 (Winter 2016/17)
Soundings was established in 1995 by Stuart Hall, Doreen Massey and Michael Rustin. These three founding editors had all at one time or another been associated with Marxism Today, which ceased publication in 1991, and Doreen Massey and Michael Rustin had also been on the editorial board of New Left Review, until they withdrew in 1993. (Stuart Hall was the original editor of New Left Review.) The aim was to continue to work within the traditions of the new left, and to produce a journal that engaged on the ground with the political scene in a style that, while informed by theory, was not too academic.
'Willing to ask the biggest questions, but always rooted in the here and now: it's a vital link between the tradition of progressive thought…' Jeremy Gilbert
'I think of Soundings as a laboratory:one of the few places which academics, acticists, policy makers and practitioners can speak to each other as equals and forge the stories that we need to apprehend and shape the world we are living through' Rachel Thomson
Issue 64: Critical Times
Contents
1. Editorial: critical times – Dave Featherstone
2. The English NHS: from market failure to trust, professionalism and democracy – Colin Leys
3. After Brexit – Marina Prentoulis, Roshi Naidoo, Teresa Piacentini, Ash Ghadiali, Richard Corbett, Danny Dorling, Cian O'Callaghan & Mary Gilmartin, Rooham Jamali, Nick Dearden
4. Rethinking public ownership [roundtable] – Andy Cumbers, Ross Beveridge & Matthias Naumann, Lazaros Karaliotas, Angela Last
5. Beyond mere equality – a politics of class analysis not 'evidence' – David Byrne
6. 'Of course we do': inequality, the family, and the spell of social mobility – Gideon Calder
7. A tale of three disputes: junior doctors against the government 2015-2016 – Steve Iliffe
8. Poems about migration – Sophie Herxheimer, Karen McCarthy Woolf
9. Living the crisis through ten moments – Ben Carrington
160 pages.
mgzaction
Medium: Magazines
Related Products