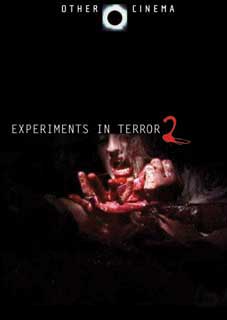 Various Artists - Experiments in Terror 2
Compilation of Horror Classics Vol.2: Nine more tales from the crypt creeping once more into the darkest corners of the cinmatic imaginary, Experiments in Terror 2 films using crazed camerawork, mesmerising mise-en-scene, and the alchemy of experimental technique.
Includes the films:
The Mesmerist by Bill Morrison (with music by Bill Frisell).
The Early 70s Horror Trailer by Damon Packard.
PsychbyBurn by J.X. Williams.
Between 2 Deaths by Wago Kreider.
Amor Peligrosa by Michelle Silva.
Hold My Scissors by Usama Alshaibi.
Opus 5 by Lloyd M. Williams.
The Fear by Angel Nieves.
She Sank on Shallow Bank by Clifton Childree & Nikki Rollason.
Check out the original DVD that began OCD's reign of avant-horror: Experiments In Terror
Medium: DVD
Related Products