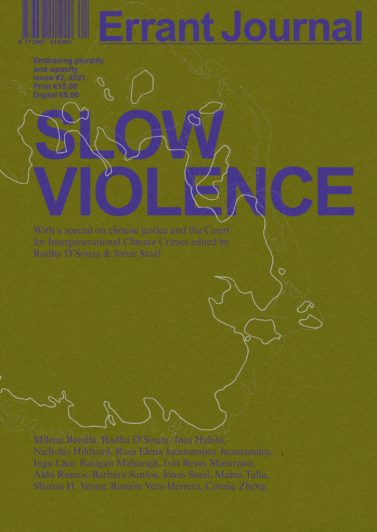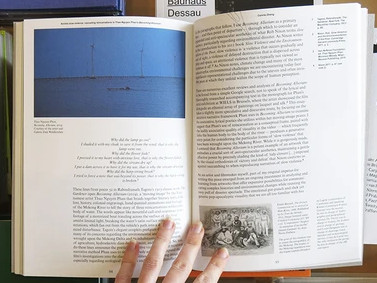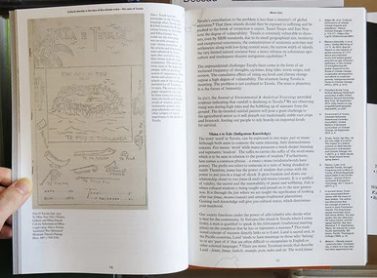 Errant Journal - Issue #2, Spring/Summer 2021
Errant Journal is a new periodical published by Framer Framed, a contemporary art institution in Amsterdam. They chose the title Slow Violence, in order to bring the rather abstract concept of ´climate change´ back in relation to the underlying necropolitics.
Coined by Rob Nixon, the term is generally defined by the often used quote from his book that reads: 'By slow violence I mean a violence that occurs gradually and out of sight, a violence of delayed destruction that is dispersed across time and space, an attritional violence that is typically not viewed as violence at all.'
Moving away from a universal narrative and addressing the different roles people, companies, and nation states play, also opens up the possibility to address the call for climate justice; a topic addressed in a special section of this issue edited by Radha D'Souza and Jonas Staal.
128 pages, softcover.
Contents:
Editor's Note   by Irene de Craen
Cultureal identity in the face of the climate crisis – the case of Tuvalu   by Maina Talia
Who will Dig into this Landscape?   by Inas Halabi
Notes on Cultural Healing and Medicine    Barbara Santos and Milena Bonilla in conversation with Rosa Elena Jacanamijoy
Taitas of the Amazon say enough to the impostors of the Yag

é

– a manifesto
Introduction to the Court for Intergenerational Climate Crimes – a conversation between Radha D'Souza & Jonas Staal
Conversations on Energy with Ghosts from the Netherworld   by Nicholas Hildyard
From the "Ballad of the Dust Bowl" to the vicious circle of the industrial agri-food system   by Ram

ó

n Vera-Herrera
A vaccine against intellectual hubris?  by Radigan Maharajh
A seed of pluriversality   by Aldo Ramos
The nexus of Nature and Nation in the Baltic region   by Inga L

ȃ

ce
Amidst slow violence: cascading reincarnations in Thao-Nguyen Phan's Becoming Alluvium   by Connie Zheng
Paradoxes of an Energy Transition Model   by Ivet Reyes Maturano
Medium: Magazine
Related Products