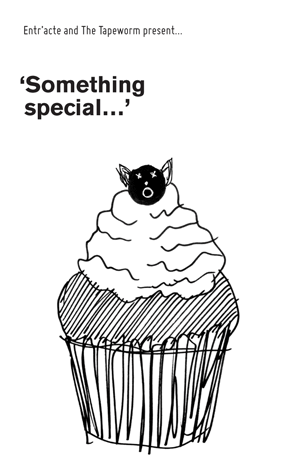 Entr'acte and The Tapeworm Present - 'Something special…'
Antwerp and Berlin shake hands on this compilation, as Entr'acte and The Tapeworm organised an event together under this title in 2013. It's not completely clear to me if these are remixes or if it's just a nice mixtape.
A is for Antwerp. Entr'acte mixed by The Tapeworm
Tracks entrammeled by Philip Marshall.
A1: Jo Thomas "Dark Noise"
A2: Dale Cornish "Of An Evening (SE5)"
A3: Noetinger/eRikm/Doneda "Nervures"
A4: Renato Rinaldi "Untitled"
A5: Kostis Kilymis "Reaction as the Afterthought"
A6: Lander Gyselinck and Esther Venrooy "Is It Real?"
A7: Machinefabriek "Worm II"
A8: Giuseppe Ielasi "Untitled"
A9: Kallabris "The Standard of a Fly (Chicago School)"
A10: Joachim Nordwall "Procession"
B is for Berlin. The Tapeworm mixed by Entr'acte
This "Worm Leatherette" mix is by Allon Kaye.
B1: Colin Potter "Melodious Thunk"
B2: Stephan Mathieu "Pauline"
B3: Autodigest as performed by José Maria Lopes "Compression 3 (Unplugged)"
B4: Othon "Behind the Veil Behold the Liquid Light!"
B5: Achim Mohné "First Five Minutes – Live at KHM"
B6: Gastón Arévalo "Atlas"
B7: Millimetre "When We Were Strangers"
B8: The Swifter "Neap Tide"
B9: Steinbrüchel "Sinus 5″
Illustration of a sinister cupcake – Dale Cornisa
Medium: Music Cassette
Related Products