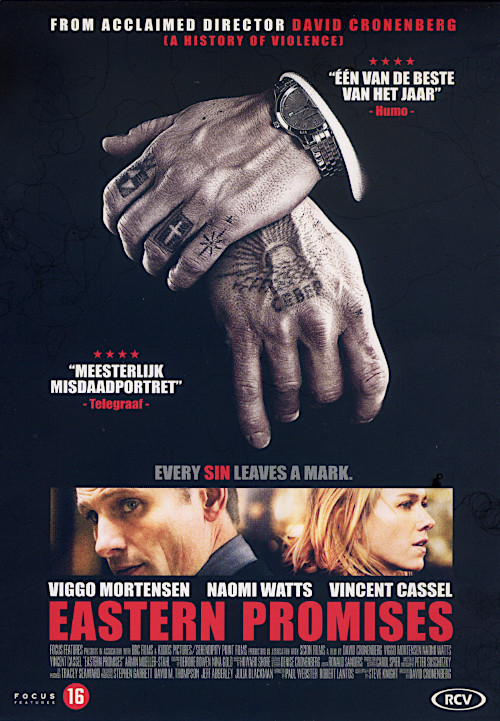 David Cronenberg - Eastern Promises
Eastern Promises is a 2007 gangster film directed by David Cronenberg from a screenplay by Steven Knight.
In London, pregnant Russian teenager Tatiana arrives bleeding to a hospital, and the doctors save her baby only. Russian-descendant midwife Anna Khitrova finds Tatiana's diary written in Russian language in her belongings and, deciding to find her family and bring them the baby, she brings the diary home and asks her uncle Stepan to translate the document. Stepan refuses, but Anna finds a card of a restaurant owned by the Russian Semyon inside the diary and visits the old man trying to find a lead to contact Tatiana's family. When she mentions the existence of the diary, Semyon immediately offers to translate the document. However, Stepan translates part of the diary and Anna discovers that Semyon and his sick son Kirill had raped Tatiana when she was 14 and forced her to work as a prostitute in their brothel. Further, Semyon is the dangerous boss of the Russian mafia "Vory v Zakone", jeopardizing the safety of Anna and her family. Meanwhile, Semyon's driver Nikolai Luzhin gets close to Kirill and Semyon, climbing positions in the criminal organization, but he helps Anna, her family, and the baby.
Written by Claudio Carvalho, Rio de Janeiro, Brazil.
Actors: Viggo Mortensen, Naomi Watts, Armin Mueller-Stahl and Vincent Cassel.
Eastern Promises received positive critical reception, appearing on several critics' "top 10 films" lists for 2007 and has since become a cult film. The film has won several awards, including the Audience Prize for best film at the Toronto International Film Festival and the Best Actor award for Mortensen at the British Independent Film Awards. The film received twelve Genie Award nominations and three Golden Globe Award nominations. Mortensen was nominated for the Academy Award for Best Actor.
Label:
RCV
/ 8713045214647
Medium: DVD
Related Products