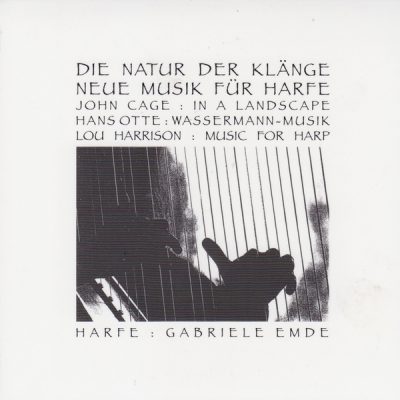 John Cage / Hans Otte / Lou Harrison - Die Natur Der Klänge – Neue Musik Für Harfe
Solo harp recordings played by Gabriele Emde.
Gabriele Emde-Hauffe was born in 1953 in Darmstadt, Germany. Her career as a performer has included performances of contemporary music by Berio, Boulez, Cage, Globokar, N. A. Huber, Schönberg, Stockhausen, Webern, I. Yun, B. A. Zimmermann, and W. Zimmermann. She has taught harp classes in Cologne, Düsseldorf and Darmstadt. These are recordings from 1985-1987, made by Der Westdeutsche Rundfunk Köln.
– John Cage: In A Landscape Für Harfe solo (1948) 09:16
– Hans Otte: Wassermann-Musik Für Harfe (1984) 39:25
– Lou Harrison: From Music For Bill And Me 03:03 / Beverly's Troubadour / Avalokiteshvara 02:23 / Jahla 2:18
Label:
Ed. RZ
/ EDITION RZ 20006
Medium: CD
Related Products