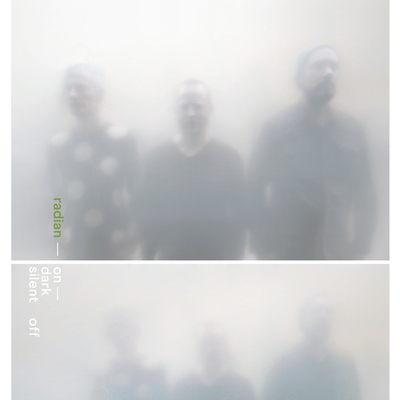 Radian - On Dark Silent Off
"Over the course of their first four albums, Radian perfected a painterly approach to sound construction. What makes the instrumental Austrian trio exceptional is its ability to wrest seemingly endless possibilities by fine-tuning the grain of every sound." […] "As usual for them, the overall tone feels, if not cold, then at least impersonal, an exercise in modernist architecture that privileges audacity of form over comfort." (Saby Reyes-Kulkarni on Pitchfork)
Martin Brandlmayr (drums, electronics), John Norman (bass), and Martin Siewert (guitars, electronics) have been influenced by and shaped Vienna's vivid scene of electronica since the early 2000s. The title of this their fifth album is a nod to Ad Reinhardt, whose art and theory has also been influential on the trio.
Radian's recording/creative process takes a central role in shaping the pieces. It is a two-fold  process of creating material through improvisation, sound experiments and processing on the one hand, and a routine of carefully selecting and editing this material on the other. It is often the case that mere snippets are used out of hours of sound material. The contrast between the magic of the moment, spontaneous live performance and its subsequent careful construction shape the quality of the pieces.
CD in 4 panel mini-LP style gatefold package.
Medium: CD
Related Products