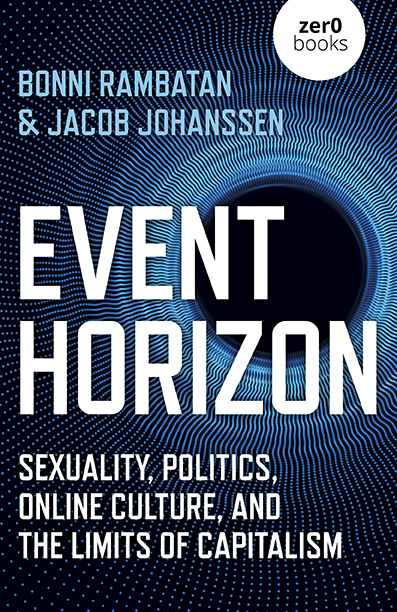 Bonni Rambatan & Jacob Johanssen - Event Horizon
In an age where Silicon Valley dictates what it means to innovate a painless future, knowledge and enjoyment are fertile breeding grounds of political contestation. But it's not exactly democracy. We are controlled through platforms that turn us into data for the profit of billionaires. Control has become so playful that we carry it in our pockets, as we continue to crave likes and followers.
What is to be done? Should the Left continue to cling to the promise of a political Event, patiently waiting for a revolutionary rupture where new possibilities emerge? Is there a way to delineate its horizons amidst the chaos?
Through a psychoanalytic interrogation of the intersections of online culture, sexuality, and politics, Bonni Rambatan and Jacob Johanssen explore such horizons at the limits of capitalism. Event Horizon examines how capitalist ideology functions in our current moment, and, more importantly, how it breaks down. With the increasing urgency of formulating a proper Leftist response to the rapidly growing violence that seriously threatens the lives of marginalised communities, this book could not be more timely.
Bonnibel Rambatan is an independent scholar and researcher based in Jakarta, Indonesia, as well as a writer and artist for various comics, novels, films, installations, and other media. They co-founded a comic book company, NaoBun, focusing on making progressive thoughts available to young readers, as well as Kolektif Kuda Laut, an arts collective for marginalized genders. Their research interests include Lacanian psychoanalysis, media studies, transgender studies, queer theory, literary and art criticism, Japanese studies, philosophy, and critical theory.
Jacob Johanssen is Associate Professor in Communications at St. Mary's University (London, UK). His research interests include psychoanalysis and digital media, sexuality and digital media, affect theories, psychosocial studies, and critical theory. He is Co-Editor of the Counterspace section of the journal Psychoanalysis, Culture & Society. He sits on the executive committee of the Association for Psychosocial Studies (APS). He is a Founder Scholar of the British Psychoanalytic Council (BPC).
Medium: Book
Related Products