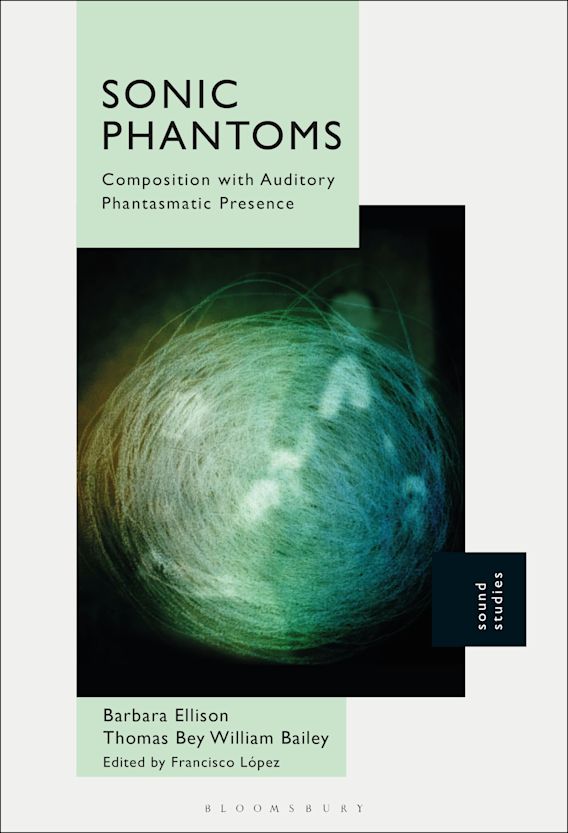 Barbara Ellison and Thomas Bey William Bailey - Sonic Phantoms – Composition with Auditory Phantasmatic Presence
What a wonderful topic! Something many people can connect to, knowing how what the ear perceives can mislead us or, even better, get our imagination to work!
In this book, Barbara Ellison and Thomas B. W. Bailey lay out and explore the mystifying and evanescent musical territory of 'sonic phantoms': auditory illusions within the musical material that convey a 'phantasmatic' presence. Structured around a large body of compositional work developed by Ellison over the past decade, sonic phantoms are revealed and illustrated as they arise through a diverse array of musical sources, materials, techniques, and compositional tools: voices (real and synthetic), field recordings, instrument manipulation, object amplification, improvisation, and recording studio techniques. Somehow inherent in all music–and perhaps in all sound–sonic phantoms lurk and stalk with the promise of mystery and elevation. We just need to conjure them.
Of the two authors, composer/artist Barbara Ellison is the one wo shares many many examples and experiences from her own personal perspective and practice. She is an award-winning composer and artist whose work explores ghostly presence and substance in a plethora of sonic and visual realms. Thomas Bey William Bailey's contributions address general research topics around auditory illusions. He is an active recording artist and author of several books on sonic art and its sociological impact.
Paperback, published in 2021. 248 pages and several illustrations in black & white.
Table of Contents
List of Figures
Preface
Acknowledgements
1 Phantasmagenics
1.1 Sonic phantoms as emergent presence
1.2 Presence by apophenia
1.3 Apophenia and creativity
1.4 Creativity with ambiguity
1.5 Ambiguity as intentional practice
2 Inducing the phantasmatic
2.1 Compositional phantasmatic strategies and techniques
2.1.1 Repetition
2.1.2 Persistence
2.1.3 Layering
2.1.4 Noise
2.1.5 Accentuation
2.2 Realms of sonic phantasmatic experience
3 Phantasma Instrumentalis: The Realm of the Instrument
Compositional Series: Harp Phantoms
3.1 Sonic exploration of the instrument
3.2 Instrument preparation & sonic blotscapes
3.3 Ritualization in performance
3.4 Structure and possible variations
3.5 Inherent patterns
3.6 Auditory streaming
3.7 Sonic figure and ground
3.8 Listening modes and perceptual competition
3.9 Accentuation of harp sonic phantoms
3.10 A second life of Harp Phantoms in the studio
4 Phantasma Materialis: The Realm of the Object
Compositional Series: Drawing Phantoms
4.1 Initial material explorations (for a literal 'phono-graphic' performance)
4.2 The Drawing Room
4.3 Transcendent 'boundary loss'
4.4 Automatic drawing – ghosts and dissociation
4.5 Drawing Phantoms performance
4.6 Expanding by narrowing: everyday and induced trance
4.7 Loop multiplicity
4.8 Drawing Phantoms séance
4.9 'EVP' and 'OVP'
5 Phantasma Humana: The Realm of the Voice
Compositional Series: Vocal Phantoms
5.1 Katajjaq
5.2 Vocal Phantoms#18 (for live voices)
5.3 Ancient and recent vocal techniques of illusion
5.4. CyberSongs: Text-to-Speech-to-Song
5.5 Micro-temporal mechanisms
5.6 Semantic satiation and semantization
6 Phantasma Naturalis: The Realm of Nature
Compositional Series: Natural Phantoms
6.1 Listening and recording
6.2 Natural polyphony
6.2.1 Layering
6.2.2 Interlocking
6.2.3 Transitions
6.3 Natural Phantoms
6.4 Beyond composition
7 Coda: Otoacoustic Emissions: The Phantom Within
References
Index
Medium: Book
Related Products