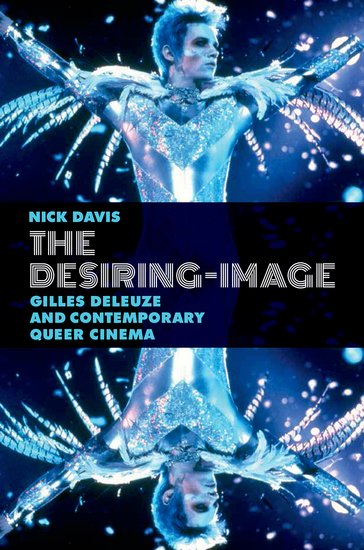 Nick Davis - The Desiring-Image – Gilles Deleuze and Contemporary Queer Cinema
A unique combination of movies in queer-cinema context; innovative reading of Gilles Deleuze's work, combining his film-related texts with his major philosophical tracts, and an approach to recent queer theory that expands beyond the familiar New Queer Cinema group of the 1990s and familiar queer-theory touchstones.
Nick Davis is assistant professor English and Gender & Sexuality Studies at Northwestern University who doubles as a popular movie reviewer and critic.
The Desiring-Image yields new models of queer cinema produced since the late 1980s, based on close formal analysis of diverse films as well as innovative contributions to current film theory. The book defines "queer cinema" less as a specific genre or in terms of gay and lesbian identity, but more broadly as a kind of filmmaking that conveys sexual desire and orientation as potentially fluid within any individual's experience, and as forces that can therefore unite unlikely groups of people along new lines, socially, sexually, or politically. The films driving this analysis range from celebrated fixtures of the New Queer Cinema of the 1990s (including Cheryl Dunye's The Watermelon Woman and Todd Haynes's Velvet Goldmine) to sexually provocative films of the same era that are rarely classified as queer (David Cronenberg's Dead Ringers and Naked Lunch) to breakout films by 21st-century directors (Rodney Evans's Brother to Brother, John Cameron Mitchell's Shortbus). To frame these readings and to avoid heterosexist assumptions in other forms of film analysis, The Desiring-Image revisits the work of the philosopher Gilles Deleuze, whose two major works on cinema somehow never address the radical ideas about desire he expresses in other texts. This book brings those notions together in innovative ways, making them clear and accessible to newcomers and field specialists alike, with clear, illustrated examples drawn from a wide range of movies extending beyond the central case studies. Thus, The Desiring-Image speaks to readers interested in queer and gay/lesbian studies, in film theory, in feminist and sexuality scholarship, and in theory and philosophy, putting those discourses into rich, surprising conversations with popular cinema of the last 30 years.
Paperback, published: 18 July 2013, 330 Pages with 15 illustrations in halftone.
Medium: Book
Related Products