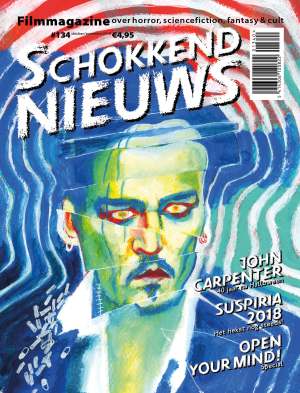 Schokkend Nieuws - # 134 (October /November 2018)
Dutch language. The multi-color cover is no coincidence: this issue's theme is hallucinogenic drugs in film.
The remake of Dario Argento's SUSPIRIA from 1977, 'trippy horrorfilm' Mandy's director Panos Cosmatos speaks open-hearted about his 'DEATH WISH on acid'. John Carpenter en Jamie Lee Curtis talk about their "definitive" (.?.) remake (after 40 years) of HALLOWEEN. Hoewel… definitief? Dat weet je nooit zeker in de wereld van de horrorfilm.\
An interview with duo Justin Benson en Aaron Moorhead, who built their very own bizarre universum with RESOLUTION, SPRING en THE ENDLESS, David Lynch's autobiography Room to Dream reviewed by Hedwig van Driel, Video Basta! brings an homage to Vestron Video, and much more reviews, columns, etc etc etc.
Medium: Magazine
Related Products