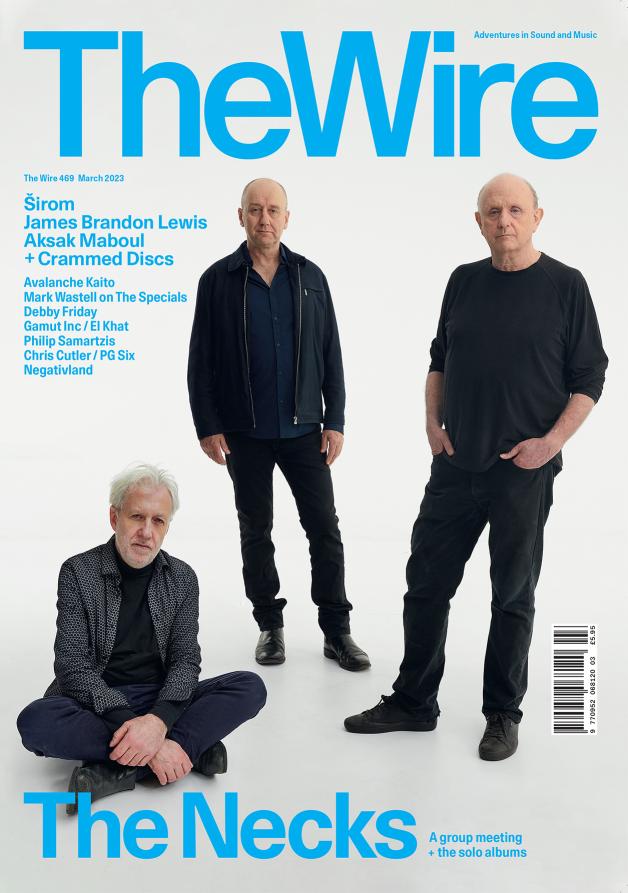 The Wire - # 469
New cover design!
The Necks: Onward, ever onward with the inexhaustible Australian outfit. By Daniel Spicer. Plus: The Necks' solo projects: Album guide by Bill Meyer.
Marc Hollander: The Crammed Discs founder and Aksak Maboul agitator reflects on his cross-cultural career. By Julian Cowley. Plus: Crammed Discs: Highlights from the catalogue by Clive Bell
Invisible Jukebox: James Brandon Lewis: Will The Wire's mystery record selection bring a tear to the saxophonist's Eye Of I? Tested by Brad Cohan.
Širom: The Slovenian avant folk trio make Europe weird again. By Miloš Hroch.
Unlimited Editions: 577 Records
Unofficial Channels: Map Pointz
Debby Friday: Fortune favours the bold Toronto based producer. By Claire Biddles
Avalanche Kaito: The Burkinabe-Belgian trio purvey electronic wisdom. By Phil England
Gamut Inc: The Berlin duo locate the ghost in the machine. By Abi Bliss
El Khat: Lo-fi glory for the Yemeni outfit. By Clive Bell
Global Ear: Athens. Microlabel mania in the Greek capital. By Ioannis Kotsonis
The Inner Sleeve: Mark Wastell on The Specials
Epiphanies: PG Six makes a key discovery
plus of course loads of reviews (records, books, events)
Medium: Magazine
Related Products