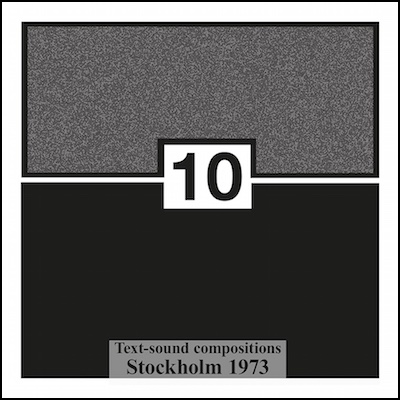 Various Artists - Text-Sound Compositions Vol. 10 (Stockholm 1973)
Fylkingen Records in Sweden never released these works, until now, more than 40 years later. From 1968-70, they presented a series of 7 LPs in collaboration with the Swedish Radio, all of which contained material performed during the yearly festivals for Text-Sound Composition that Fylkingen arranged during those three years. A new series of records for 1971-74 was planned but, due to economic reasons at that time, they were never made. Fylkingen now finally continues the series with vol. 8-11 – one record for each year´s festival..
This volume has a good balance between text and sound, and much of it sounds quite primitive, with sometimes synthesized voices, and most sounds quite subtle and subdued.
Contents:
Tamas Ungvary (HU) – Annons (6.35)   Sine tone sequences, synthesized voices..
Herman Damen (NL) – Psychocybernetic Performance (10.08)   Has a more dramatical character, as we seem to hear various voices (with various effects) in a sort of dialogues. You can tell Damen is more engaged with language, he wrote visual poems and performance pieces and developed a genre he called "verbosonies" where "vocalised morphemic elements are assembled in different ways".
Lars-Gunnar Bodin (SW) – Semicolon; Seance IV (17.47)   The first work to be realised in the EMS studio, in 1965, and, as Bodin says, "a fairly primitve text-sound composition, although the actual concept of text-sound compositions was only initiated two years later". An excerpt from this was released on a 3CD compilation called "Bits and Pieces" in 1994.
Medium: LP
Related Products