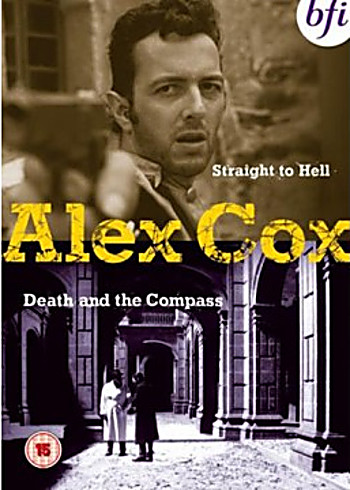 Alex Cox - Straight to Hell and Death and the Compass
Straight to Hell (1987) is Alex Cox's glorious and anarchic homage to the spaghetti western. It features an all-star cast including Dennis Hopper, Joe Strummer, Courtney Love, Jim Jarmusch, Kathy Burke, Grace Jones, Elvis Costello and Shane MacGowan and music by The Pogues, Pray for Rain and Joe Strummer.
Death and the Compass
Death and the Compass (1992), one of Cox's most ambitious, inspired and visually stunning films, is a deliciously dark adaptation of the short story by acclaimed Argentine writer Jorge Luis Borges. In a totalitarian metropolis of the future (shot on location in Mexico City), Erik Lonnrot (Peter Boyle) is a gifted detective investigating a series of strange murders and disappearances that seem to implicate the insane crime lord Red Scarlach. Enlisting the help of Alonso Zunz (Christopher Eccleston), a principled journalist, Lonnrot believes that he has uncovered a labyrinthine occult conspiracy. However, has the investigator's brilliance merely precipitated his own destruction?
Medium: 2DVD
Related Products