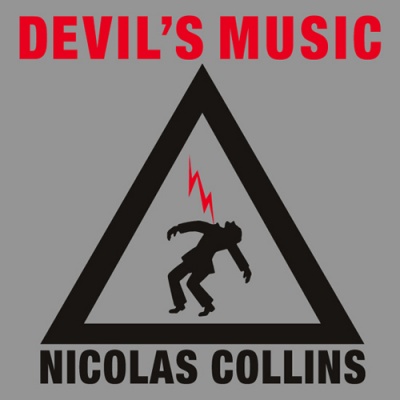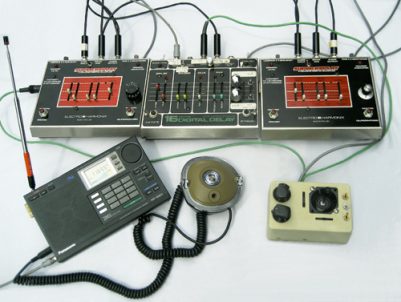 Nicolas Collins - Devil's Music`
Like many composers of electronic music Collins employs the richness and surprise of live radio broadcasts for his initial sound sources to make this piece. Here, radio transmissions are "digitally sampled, looped, retriggered, reversed, and de-tuned" through a "cheap sampling system (consisting of two Electro Harmonix Super Replays and one 16 second Delay) to develop the quirky rhythmic interplay that characteristizes the piece" (Collins). The result is a contemporary rhythm collage that could also be at home in techno, house, hip-hop and other dance music situations. This work has been performed in concert versions and was also issued as a regular dance LP, an "encyclopedia of break" (Collins), which the composer later discovered was selling like hotcakes several years after its initially commercially unsuccessful release — perhaps, the price of being ahead of your time. Collins shares sensibilities with many contemporary composers who are familiar with and often perform both advanced and pop styles of music.
This vinyl reissue of Nicolas Collins' live radio sampling masterpiece, originally released on vinyl in 1986, is served up in all its stuttering glory, a time capsule of the mid-80s New York City airwaves. Extra: "Real Landscape", a 1987 "remix" recorded in Europe (originally released on cassette).
Record 1:
Devil's Music A (18:46)
Devil's Music B (17:29)
Record 2:
Real Landscape A (26:04)
Real Landscape B (25:47)
Medium: 2LP
Related Products