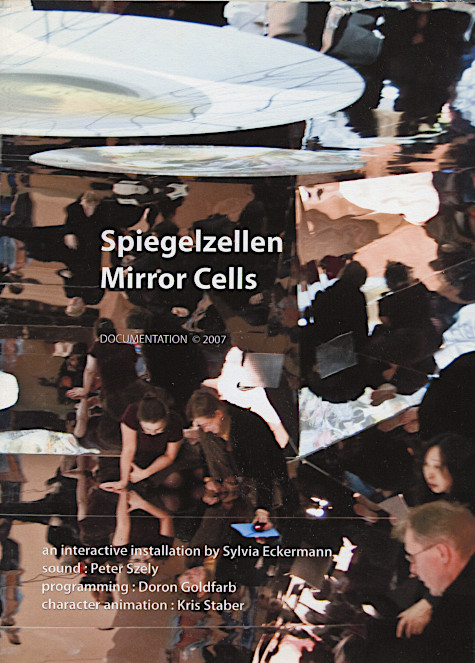 Sylvia Eckermann - Mirror Cells/ Spiegelzellen
Sylvia Eckermann's Spiegelzellen (Mirror Cells, 2007), a sound, image, and room installation of computer controlled rhizome structures she created in collaboration with Szely and Doron Goldfarb. Sylvia Eckermann's work with multi-user applications and the interface between virtual and haptically accessible space goes back to 1989 when she first started exploring electronic art and created complex multi-media worlds involving the viewers in a number of ways and enabling them to act and experiment both in reality and in virtual space. In the words of Sylvia Eckermann, the audio-visual room installations allow the viewers to become actors.
For the exhibition "Acting in Utopia" at Landesgalerie Linz in 2007, Eckermann, Szely (sound) and Goldfarb (programming) developed an architectural acousmatic space, a world of reflective mirror plates which tempted the viewers to be led into the unknown. Visitors to the museum were invited to play "a game of reflected infinity"2 in which with the help of a mouse they could pass through the sound and image environment and thus actively travel the virtual world. The project is based on the phenomenon of mirror neurons or mirror cells discovered in 1991 by Giacomo Rizzolatti and a group of neurophysiologists at the University of Parma.
This DVD contains two short films, some texts and a photo gallery documenting this installation.
Medium: DVD
Related Products