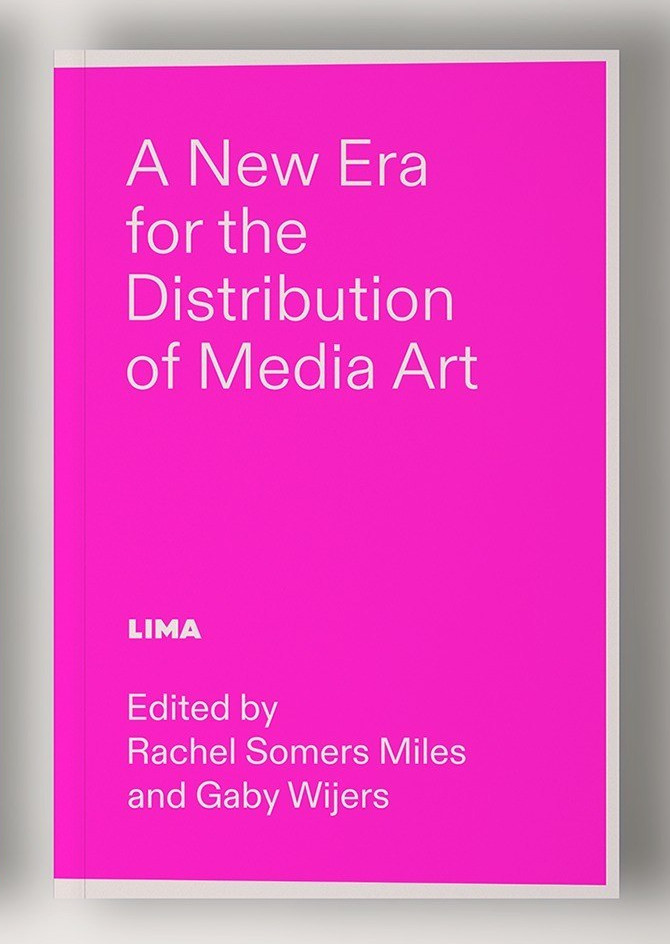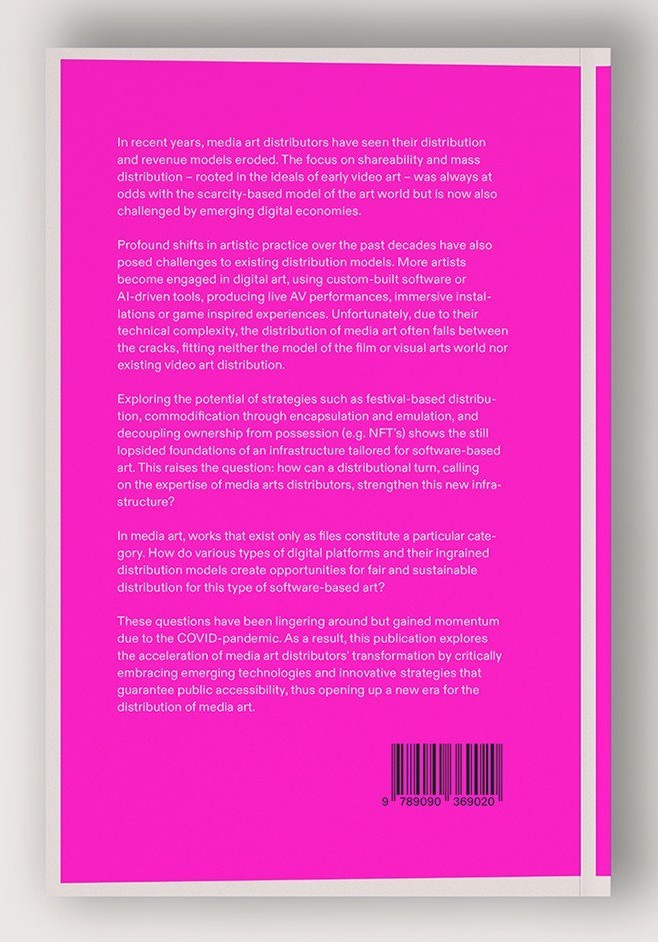 Rachel Somers Miles & Gaby Wijers (eds.) - A New Era for the Distribution of Media Art
In media art, works that exist only as files constitute a particular category. How do various types of digital platforms and their ingrained distribution models create opportunities for fair and sustainable distribution for this type of software-based art? This publication explores the acceleration of media art distributors' transformation by critically embracing emerging technologies and innovative  strategies that guarantee public accessibility, thus opening up a new era for the distribution of media art.
In recent years, media art distributors have seen their distribution and revenue models eroded. The focus on shareability and mass distribution – rooted in the ideals of early video art – was always at odds with the scarcity-based model of the art world but is now also challenged by emerging digital economies.
Profound shifts in artistic practice over the past decades have also posed challenges to existing distribution models. More artists become engaged in digital art, using custom-built software or AI-driven tools, producing live AV performances, immersive installations or game inspired experiences. Unfortunately, due to their technical complexity, the distribution of media art often falls between the cracks, fitting neither the model of the film or visual arts world nor existing video art distribution.
Exploring the potential of strategies such as festival-based distribution, commodification through encapsulation and emulation, and decoupling ownership from possession (e.g. NFT's) shows the still lopsided foundations of an infrastructure tailored for software-based art. This raises the question: how can a distributional turn, calling on the expertise of media arts distributors, strengthen this new infrastructure?
ABOUT LIMA
LI-MA was founded in 2013 by a small specialised and passionate team, and has grown into an influential platform, centre of expertise with a wide network. All of LI-MA's activities are aimed at sustainable access to media art and promoting a critical understanding of media art and technology within new technological and social contexts as well as realities. LI-MA is the digital depot for media art in the Netherlands for both institutions and artists. On an international level, LI-MA is a pioneer and centre of expertise in the field of conservation, research and distribution of media art.
ABOUT THE AUTHORS
STEFAN GLOWACKI is a researcher in the fields of media art and media theory. He holds a BFA (2018) from the School of the Art Institute of Chicago. He has worked with Video Data Bank in Chicago and LIMA in Amsterdam, where he investigated the preservation and distribution of media art, as well as distributed and collaborative approaches to knowledge production. He currently teaches at the Poznan University of Arts.
RACHEL SOMERS MILES is a project leader and researcher at LIMA, most recently focusing on the two-year digital art distribution model research project. She was involved in previous LIMA projects such as Future Proof, where she focused on researching the documentation and preservation of born-digital interactive installations, and Art Host where she developed an online tool to assist born-digital artists in documenting their own artworks.
UBERMORGEN ('the day after tomorrow', CH/AT/US, *1995) is an artist duo, a synthesis of autistic actionist lizvlx (aka Liz Katlein) & pragmatic visionary Luzius Bernhard (formerly known as Hans Bernhard). They are net.art pioneers, 'Media Hackers' widely recognized for their Online Actionism, Haute Couture NFTs & Websites, Polarising Social Experiments, Deep/Radical Research, Binary Primitivism & Conceptual Art. http://ubermorgen.com
GABY WIJERS is the founder and director of LIMA. She has a background in information management, theatre and informatics. She initiated, advised and participated in multiple national and international projects dealing with the documentation, preservation and access of immaterial and interactive art, specialisation media art and performance. She is a guest lecturer at Amsterdam University and an honourable research fellow at Exeter University.
Paperback, 132 pages, published in 2023.
Publisher:
LIMA
/ ISBN: 978909036902
Medium: Book
Related Products