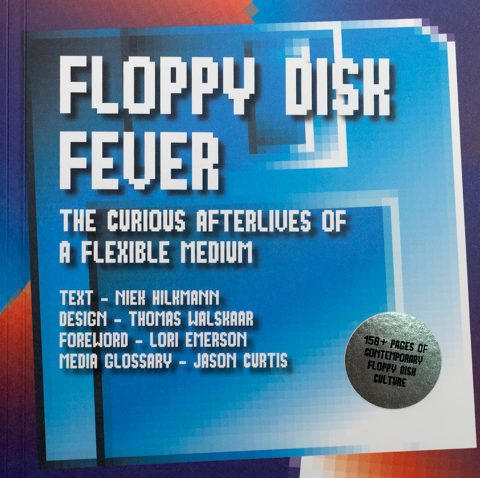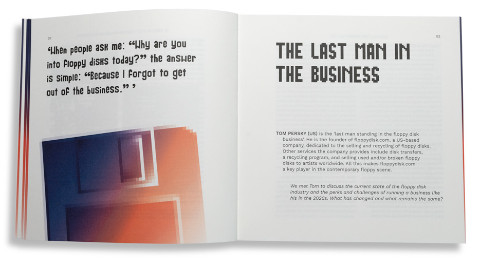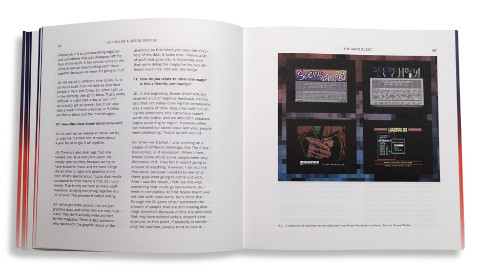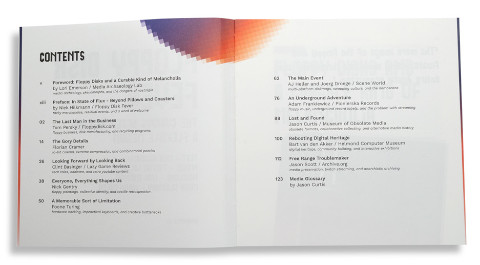 Niek Hilkmann & Thomas Walskaar (Editors) - Floppy Disk Fever: The Curious Afterlives of a Flexible Medium
Floppy Disk Fever reflects on notions of obsolescence, media preservation and nostalgia, and challenges these by showing the endurance and versatility of this familiar piece of technology. From floppy filmmakers to floppy painters and beyond; what drives people to continue working with the medium that is typically deemed obsolete? What challenges and affordances does it provide? And what does the future hold in store for the familiar black square? By looking at the current presence of past technology we can assess our present-day situation and speculate on the future developments of our media minded landscape. After all, the technology of the past is also part of our future!
Includes a preface by Lori Emerson (Media Archeology Lab) and interviews with Jason Scott (archive.org), Tom Persky (floppydisk.com), Florian Cramer, Jason Curtis (Museum of Obsolete Media), Adam Frankiewicz (Pionierska Records), Foone Turing, Clint Basinger (Lazy Game Reviews), Nick Gentry, Joerg Droege and AJ Heller (Scene World) and Bart van den Akker (HelmondComputerMuseum).
Paperback, Published in 2022, 140 pages.
Contents
V      Foreword: Lori Emerson – Floppy Disks and a Curable Kind of Melancholia
XIII  Preface: Niek Hilkmann – In State of Flux
02    Tom Persky – The Last Man in the Business
14    Florian Cramer – The Gory Details
26    Clint Basinger – Looking Forward by Looking Back
38    Nick Gentry – Everyone, Everything Shapes Us
50    Foone Turing – A Memorable Sort of Limitation
62    AJ Heller & Joerg Droege – The Main Event
76    Adam Frankiewicz – An Underground Adventure
88    Jason Curtis – Lost and Found
100  Bart van den Akker – Rebooting Digital Heritage
112   Jason Scott – Free Range Troublemaker
123   Jason Curtis – Media Glossary
Contributors
Lori Emerson (CA/US) is an Associate Professor in the Department of English and the Intermedia Arts, Writing and Performance Program at the University of Colorado, Boulder.
Jason Scott (US) is a free-spirited archivist, filmmaker, performer, and historian of technology.
Tom Persky (US) is the 'last man standing in the floppy disk business'. He is the founder of floppydisk.com, a US-based company, dedicated to the selling and recycling of floppy disks.
Florian Cramer (NL) is a practice-oriented research professor in 21st Century Visual Culture at the Willem de Kooning Academy in Rotterdam, the Netherlands. Since 2009, he has developed a habit for creating and distributing films using floppy disks and has conducted multiple workshops on the subject.
Jason Curtis (UK) is a writer, librarian, and collector from Shropshire, England.
Adam Frankiewicz (PL) is an eclectic theatre director and a contemporary electronic composer. These activities led to the founding of his independent record label Pionierska Records in 2014, which has been publishing music exclusively on floppy disk since 2018.
Foone Turing (US) is a media collector, hardware hacker, and Twitter personality.
Clint Basinger (US) is the driving force behind the Lazy Game Reviews (LGR) YouTube channel, providing weekly coverage of retro tech, classic computer gaming, oddware, thrifting tech tales, and more.
Nick Gentry (UK) is a London based artist who repurposes obsolete media as the raw material for his artwork.
Joerg Droege (DE) and A J Heller (US) are part of Scene World, an eclectic NTSC & PAL diskmag that started out in 2001 and is still running today.
Bart Van Den Akker (NL) is the founder of the Helmond based Home Computer Museum, a 1 000+ square meter interactive experience that covers the history of the home computer, from the very first to modern variants in the late 90s and beyond.
Editors:
Niek Hilkmann (NL): Rotterdam based artist, musician, and researcher with a background in Art History, Media Design and Visual Culture.

Thomas Walskaar (NO): graphic designer and researcher with a Masters in Media Design and Communication from The PietZwart Institute in Rotterdam and a BA (Hons) in Graphic Design from Ravensbourne in London.
Medium: Book
Related Products