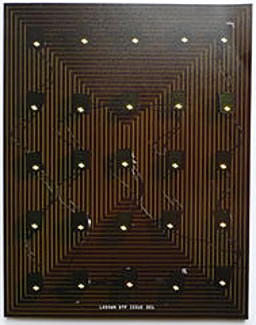 Lodown Magazine - DTP (issue 001)
'This magazine is an experiment. A magazine that is not entirely layouted on the computer or even better: a magazine that isn't a screen to print production. We went back to old phototype setting methods, which were adequate before 'desk top publishing' (DTP) was taking over. We tried to figure out what desktop publishing means to us today, by rebuilding the word itself in a way Heidegger would analyze the semantic components and contexts.'
This might be irrelevant to the reader, it being more a matter of the process of making. Crucial were Lodown's old Hasselblad repro-camera, the format and the manual grid-system, which they called the Feedbackgrid. The result is a fantastic, beautiful large format (28 x 35 cm) picture book, with all texts and credits moved into the index at the beginning.
Featuring Robert Fehse, Moritz Kassner, Nico Leist, Steve Michaelis, Constantin Engelmann, Tom Sachs, Nida Sinnokrot, Martin Wilson, Kasia Fudakowski, Spencer Lowell, Robert Hoffmann, KR, Peter Lorenz, Knotan, Alex Flach, Jayson Musson, Daniel Joseph, Ben Jones, Ed Templeton, Andreas Gursky, Ed Ruscha, Geoff McFetridge, DZINE, Ben Sleeuwenhoek, Vesta Nele Zareh, Mercedes Helnwein, Mike Mills, Stefan Marx, Patrick Pulsinger and Marco Meiran.
Publisher:
Lodown
/ ISBN 4194162709003
Medium: Book
Related Products