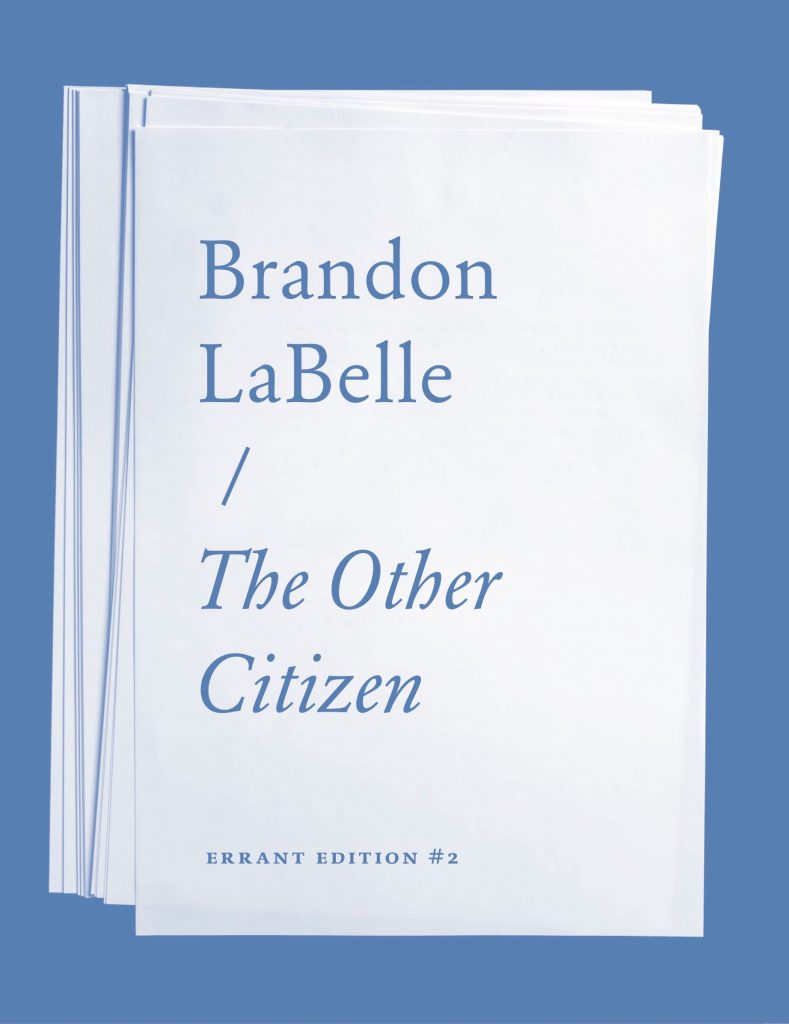 Brandon Labelle - The Other Citizen
The Other Citizen tracks the hopes and losses, struggles and utopian desires of what the author terms "the floating subjects" of contemporary life. Drawing upon traditions of socially engaged poetics, the work takes aim at the heart of contemporary crisis and exclusionary politics by paying homage to the creative solidarities and pirate imaginaries spanning the globe. Through ten acts, we are led into narratives of friendship and survival, threadbare endurance and tender resistance. From lost teenagers struggling in the maze of neoliberalism to secret gatherings of artistic bandits to those caught in between the borders of nation-states, these emerge as frontiers of invention that, when stitched together, outline the force of an anarchic citizenry. The Other Citizen is a challenging and moving call for exiting the new norm of crisis.
Brandon LaBelle is a musician, artist, writer, theorist, curator and editor (founder of Errant Bodies). His work is based on performance, sound installation, recording and use of found sounds. LaBelle reflects fluently on his artistic practice, drawing attention to the social dimensions of listening and manner in which sounds, in multiple variations, play upon public spaces, and drawing connections across media and incorporate video, as well as architectural and sculptural vocabularies into an expanded field that embraces rhetorical and spatial challenges.
Listen to the introductory chapter, read by the author, here.
published in 2020, softcover, 136 pages (b/w ill.)
Medium: Book
Related Products