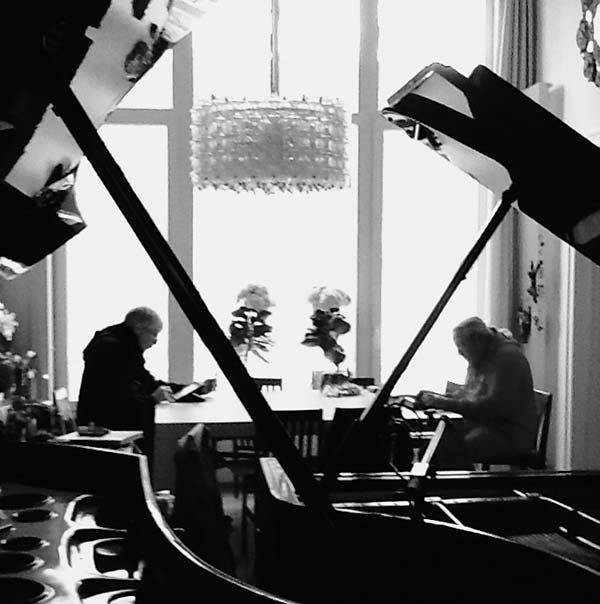 Charlemagne Palestine and Rhys Chatham - Youuu + Mee = Weee (First Part)
The first recorded collaboration between Palestine and Chatham. The first on piano Bösendorfer, Yamaha organ and voice; the second on trumpet, loop pedal and electric guitar. Chatham began his musical career as a piano tuner for avant-garde pioneer La Monte Young as well as harpsichord tuner for Gustav Leonhardt, Rosalyn Tureck and Glenn Gould. He soon studied under electronic music pioneer Morton Subotnick and minimalist icon La Monte Young and was a member of Young's group, The Theater of Eternal Music, during the early seventies; Chatham also played with Tony Conrad in an early version of Conrad's group, The Dream Syndicate. In 1971, while still in his teens, Chatham became the first music director at the experimental art space The Kitchen in lower Manhattan. By 1977, Chatham's music was heavily influenced by punk rock, having seen an early Ramones concert. He was particularly intrigued by and influential upon the group of artists music critics would label No Wave in 1978.  Chatham began playing trumpet in 1983, and his more recent works explore improvisatory trumpet solos; these are performed by Chatham himself, employing much of the same amplification and effects that he acquired with the guitar, over synthesized dance rhythms by the composer Martin Wheeler.
This is the first part of a 166 min. recording, that was issued as a 3CD by Sub Rosa, entitled "Youuu + Mee = Weee".
Medium: LP
Related Products