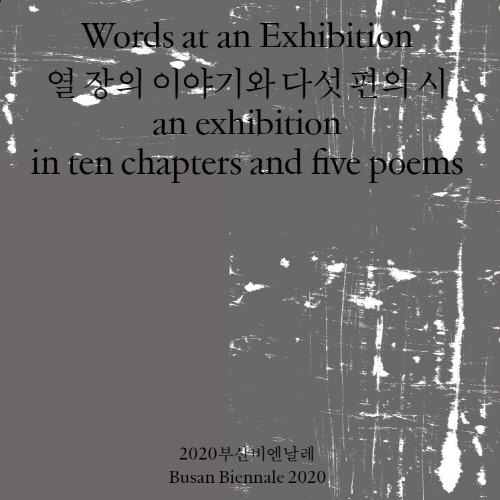 Various Artists - Words at an Exhibition: an exhibition in ten chapters and five poems
Very chique double vinyl edition commissioned by the Programme Committee of the Busan Biennale 2020. You could call it a soundtrack album as it features the 11 musicians involved in the project. The concept of Words at an Exhibition was a collaboration between visual artists, writers and musicians. You can see the outcome of that here.
Anyway, what you get here is the sound works, not all of them very exciting to my ears, the ones standing out are Taehyun Choi on side B, and Astrid Sonne and Kim Gordon on Side C. Booklet with credits included, everything is in Korean as well as English.
Gatefold cover, black print on metallic silver sleeve, text deep black in letterpress.
Tracks:
Side A
Odaeri – Boowoon (Cloud Drift)
Say Sue Me – Daily Walking Rehearsals
Kim Ildu – 5 songs (strumming his guitar)
Side B
Choi Taehyun – Anchorage
Elias Bender Rønnenfelt – Green is for Sorry
Side C
J-Tong and Jinjah – Yaliyaliyalashung
Søren Kjærgaard – As if to Say
Astrid Sonne – Various Areas of Memory / Busan en Rose
Side D
a.k.a. Foodman – KAIWA
Meuko! Meuko! – We'll All End Up Rocks in a Lake
Kim Gordon – The Day Before Yesterday
Medium: 2LP
Related Products