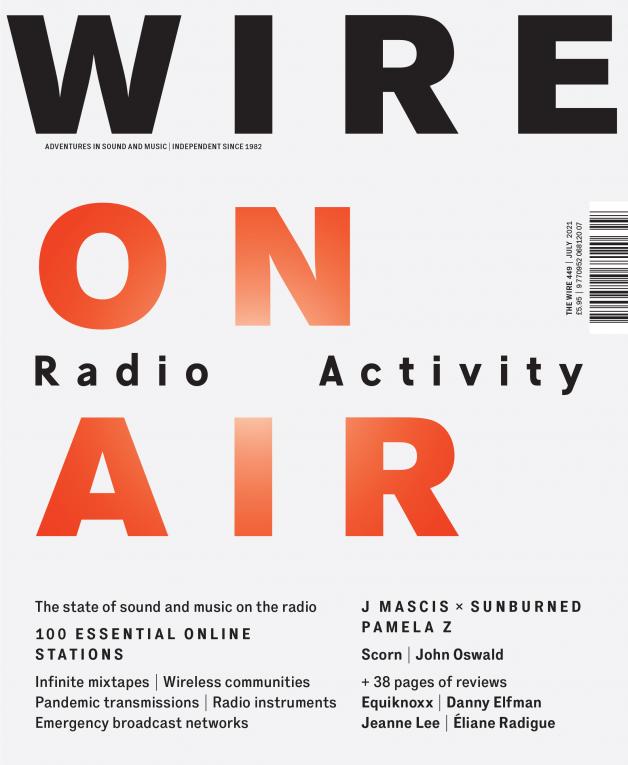 The Wire - # 449
Inside this issue:
Radio Activity: The growth of internet radio through the 2010s and the pandemic conditions of the last year have created an explosion of music on air. From the US to China, Palestine to Central Europe, South America to Africa, our global survey tracks online, FM and other radio developments. Plus a 100-strong directory of essential stations, sites and broadcasters.
Plus: Pamela Z: Born in Buffalo, New York, the radio DJ, vocalist and composer has carved out a rich and compelling career, characterised by its innovative use of technology and engaging humour. By Emily Pothast.
Invisible Jukebox: J Mascis: Will the Dinosaur Jr guitarist and vocalist find himself "Kracked" by The Wire's mystery record selection? Tested by Sunburned Hand Of The Man's John Moloney and Rob Thomas.
Sam Dunscombe: The Australian field recordist remixes the Californian desert via discarded ephemera. By Abi Bliss
We All Break: Percussionists Daniel Brevil and Ches Smith run the Vodou down. By Stewart Smith
Olev Muska: Into the archives of the Estonian-Australian folk synthesist. By Joshua Minsoo Kim
Mick Harris & Scorn: Heavy manners from the blastbeater turned bass explorer. By Phil Freeman
Unlimited Editions: Zoomin' Night
Unofficial Channels: Wouter Van Veldhoven
Global Ear: The American Composers Forum meets the challenges of the present with an eye to the future. By Vanessa Rose, Dameun Strange & Amanda Cook
The Inner Sleeve: John Oswald on a Command Records inner sleeve
Plus many many reviews of books, records, films, events.
Medium: Magazine
Related Products